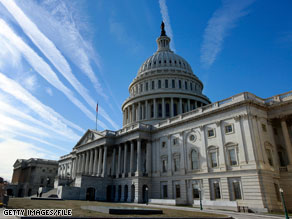 The CNN 100 takes a look at the top 100 House races, from now until Election Day.
Editor's Note: In the final 100 days before Election Day, CNN has been profiling one race at random each day from among the nation's top 100 House races, which we've dubbed "The CNN 100." Read the full list here. Today's featured district is:
Colorado 3: Democratic Rep. John Salazar seeks a fourth term
Primary: August 10, 2010
Location: Western Colorado
Days until Election Day: 71
(CNN) - While high-profile Tea Party upsets of establishment picks in Colorado's Republican primaries earlier this month left the party reeling, one congressional candidate managed to side-step the chaos, wooing enough Tea Party support to claim a decisive GOP primary win.
Republican state Rep. Scott Tipton faced a stiff challenge from underdog conservative candidate Bob McConnell, who boasted of Sarah Palin's backing. But Tipton, who also courted local Tea Party groups, garnered a share of their support and earned the right to a re-match with Democratic Rep. John Salazar in Colorado's 3rd congressional district.
The last time Tipton and Salazar faced off, in the Democratic sweep year of 2006, Salazar cruised to victory by more than 20 points. Those winds have shifted. Given the national environment, the GOP is hoping it's gained a new edge in this battleground district, a sprawling region that takes in the entire western part of Colorado and stretches across the Rocky Mountains to a point roughly fifty miles away from the state's southeastern border with Kansas and Oklahoma.
The district is home to communities that are as diverse geographically as they are politically - from the high-class, high-altitude ski towns of Aspen and Telluride to the old industrial city of Pueblo in the foothills east of the Rockies to the relatively flat grasslands in Las Animas County on the New Mexican border. Republicans tend to do well in Western Slope communities like Grand Junction; Democrats are faring better in recent years on the ski slopes of Pitkin and Gunnison Counties, as well as the southern Front Range where many Latinos reside. It all added up to a two-point margin for John McCain in 2008 in a district George W. Bush won by 11 points four years earlier.
Salazar eked out a narrow win in his first race here, but those trends have helped him win re-election comfortably since, coasting to victory by lopsided double-digit margins both times.
Few expect a win that big this year. Tipton hopes to capitalize on the far friendlier national environment this time around, taking aim at Salazar's votes for the stimulus and the health care bill. The congressman also came under heavy Republican fire as one of "Stupak's Sellouts," as they dubbed Democratic members who voted for both pro-life Rep. Bart Stupak's amendment on abortion funding and passage of the final health care bill, which did not contain that language.
The GOP has also slammed the incumbent for allegedly short-circuiting typical transparency procedures in a recent federal land-swap deal that benefits a supporter, tucking the proposal into a bill - allowing it to avoid the standard public hearings and environmental impact statements typically involved with those moves. The deal would add more than 1,800 acres to a ranch owned by deep-pocketed Bill Koch, a major Salazar contributor.
Still, Salazar has the edge over Tipton. The Colorado GOP finds itself in a tough spot, still recovering from the bruising primary season that resulted in surprise victories - and newly tougher-than-expected fall matchups - for gubernatorial nominee Dan Maes and Senate nominee Ken Buck. And Salazar has made moves to protect his right flank, announcing fresh support last week for extending the Bush tax cuts.
Most importantly: the incumbent retains a hefty fundraising advantage over his Republican challenger, boasting a war chest of more than $1.2 million as of late last month, to Tipton's roughly $170,000. The money chase has translated into headaches for Tipton in more ways than one; he drew Democratic fire this month for hosting a local fundraiser featuring controversial former Clinton White House advisor-turned-Fox News commentator Dick Morris. If current trends hold, Salazar is favored for a fourth term.