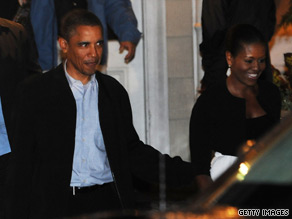 President Obama and first lady Michelle Obama enjoyed a dinner out Monday night.
Vineyard Haven (CNN) - Despite a fierce Nor'easter that knocked out power and blew down tree limbs on Martha's Vineyard, the Obama family vacation is anything but a washout. "They're having a great time actually," said Deputy White House Spokesman Bill Burton, adding that "the rain has not dampened their spirits."
So how is the First Family occupying its time during these rain soaked days? "They've played board games. I've heard reports of Taboo and Scrabble being played," Burton said as he wrapped up a briefing with reporters in Vineyard Haven, Massachusetts.
Burton dared to lift the veil off the Obama's private time, by revealing that top Presidential adviser and close family friend Valerie Jarrett "did not do so well in Scrabble against the President."
This rare revelation of a behind the scenes vacation moment was a walk onto thin ice for Burton, who jokingly admitted "this will probably get me fired."
The Obama's are also reading books, watching movies and "getting some good downtime," Burton said.
The first family has stayed mostly out of sight so far, spending their time at the rented 28 acre Blue Heron farm in Chilmark.
Their only public appearances so far? A trip to the Vineyard Haven book shop "Bunch of Grapes," and a dinner date to "The Sweet Life Café," in Oak Bluffs.