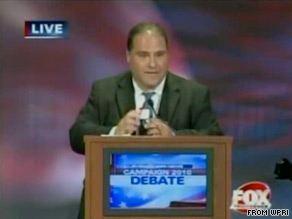 Mayoral candidate Chris Young had an unlikely closing statement Tuesday.
(CNN) – While an underdog mayoral candidate in Providence, Rhode Island likely isn't headed to City Hall any time soon, he appears destined for the marriage altar after popping the question to his girlfriend during a televised debate Tuesday night.
"Now is the time for me...to start anew and thank those who have helped me throughout my life and love those who have helped me throughout my life. So I wanted to say to Kara, will you please marry me?" said Chris Young, a quixotic candidate who has unsuccessfully sought many offices in the state and is better known for his outlandish antics then his stances on the issues.
Kara Russo, Young's girlfriend, campaign manager, and a candidate herself for Rhode Island attorney general, said yes. After the debate, Young presented Russo with a ring.
But there's one caveat: CNN affiliate WPRI reports Young added off camera the marriage would only occur if he won the mayoral race – a highly unlikely prospect.
Still, it remains unclear if the proposal was merely a stunt. Young had already been referring to Russo as his fiancé and has boasted of plans to hold a wedding in downtown Providence when he becomes mayor, according to WPRI.
Young caused a stir earlier this week when, in an appearance on a political talk show, he avoided answering questions about his positions to instead serenade the interviewer with a song he claims to have written. A YouTube video of the occurrence has since garnered more close to 60,000 views.
Young also disrupted a debate in late July when he refused to set aside a statue of the Virgin Mary. Providence radio station WPRO reported Providence police finally removed Young from the event as a result. The station also reports Young was removed from a debate several years ago after he flipped a table.