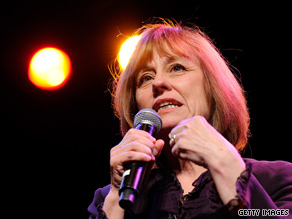 Two-thirds of Angle supporters say they wish she wasn't the GOP nominee.
(CNN) – When it comes to picking the Republican Senate nominee in Nevada, it appears the great majority of Republican voters there want a mulligan.
According to a new Las Vegas Review-Journal/8NewsNow poll, 2 in 3 self-identified supporters of Republican candidate Sharron Angle say they wish another Republican was on top of the ticket instead. Only 24 percent of Angle supporters express approval she won the nomination.
Angle, a favorite of the Tea Party movement, captured the nomination on June 8, besting establishment favorite Sue Lowden and businessman Danny Tarkanian, as well as several other Republicans, in a race that grew increasingly bitter in the final days.
Incumbent and Senate Majority Leader Harry Reid has since sought to portray the former state legislator as an extremist and political neophyte unfit for the United States Senate. Angle has also faced a series of setbacks since winning the nomination, including several awkward attempts to avoid media interviews.
Still, a recent Mason Dixon poll shows the embattled Reid neck and neck with Angle, holding a statistically insignificant 1-point lead, 45-44 percent.
But while 5 percent of Nevadans say they remain undecided, the survey suggests more are leaning towards Reid. Eight in 10 undecided voters say they wish Angle wasn't the GOP nominee while 58 percent express a similar sentiment about Reid.
The Las Vegas Review-Journal/8News Now poll surveyed 625 registered voters Monday through Wednesday of this week and carries a sampling error of plus or minus 4 percent.