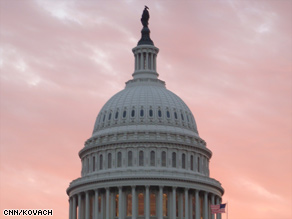 The CNN Washington Bureau's morning speed read of the top stories making news from around the country and the world.
WASHINGTON/POLITICAL
For the latest political news: www.CNNPolitics.com
CNN: Already boasting, Republicans predict huge gains in November
A top House Republican boasted Thursday that Republicans are already positioned to take control of the House, and argued the Democrats' political position will only worsen as Election Day approaches. California Republican Congressman Kevin McCarthy, the top recruiter of GOP candidates and chief Republican Whip in the House, told reporters on a conference there are "more than enough seats" to win, and added, "I think the map is getting bigger by the day."
CNN: Mehlman: 'I understand people are going to be angry'
Former Republican National Committee chairman Ken Mehlman is responding to criticism of his role in a Bush political operation that called for a constitutional amendment banning same sex marriage. "It was something about my life I was having a hard time accepting then and I can't change that," Mehlman said in a phone interview Thursday with CNN Chief National Correspondent John King, before adding "I understand people who are going to be angry." Mehlman told "The Atlantic" he was gay in an article published Wednesday.
CNN: Bachmann fires assault rifle, ends 2-day tour with a bang
Embracing her strong pro-gun stance, Minnesota Congresswoman Michele Bachmann fired off a few rounds from an M4 carbine Thursday morning, according to employees of a local ammunition manufacturer in her district. The pro-Second Amendment conservative and rising Tea Party movement icon made the final public campaign stop of her two-day bus tour at Federal Ammunition ATK in Anoka, Minnesota.
Miami Herald: McCollum refusing to back Scott, cites qualms
Bill McCollum doesn't forget easily. Two days after he lost the Republican nomination for governor, McCollum still refuses to support winner Rick Scott, and continues to raise questions about his former rival's character.
CNN: Reid and Angle fire away on Nevada TV
The Harry Reid and Sharron Angle campaigns are both on the attack again, with each side up on Nevada television with a new ad Thursday. The commercial by the Senate Majority Leader continues a full court press by his campaign and national Democrats over the past three months to paint Angle as too extreme. The former Nevada state lawmaker, once a long shot in the battle for the GOP Senate nomination, won the June primary thanks in part to strong support from many in the Tea Party movement.
CQ Politics: McCain Hits the Trail — but Not Just for Himself
Now that Sen. John McCain (Ariz.) has survived his own challenging primary, the four-term incumbent plans to focus more on helping fellow Republicans in tough races. And in a year when the GOP could conceivably win control of Congress, the 2008 presidential nominee is expected to be an active advocate for candidates across the country.
FOX News: Key Toss-Up Races Held in States Where Military Absentee Ballots Face Delays
Sens. Russ Feingold of Wisconsin and Michael Bennet of Colorado are just two incumbents locked in tight re-election races in states where local officials have warned they will likely not be able to ship out general election ballots to overseas military voters by the Sept. 18 deadline.
Washington Post: Opponents of same-sex marriage target Iowa judges
Politics is as much a mainstay of the Iowa State Fair as the deep-fried food and the cows sculpted out of butter. But the crowds searching for a remote corner under the grandstand this week were not headed for one of the presidential hopefuls who routinely drop by. They were interested in a normally low-key judicial election that has suddenly taken center stage in the national fight over same-sex marriage.
CNN: Google ads target online voters standing in line
Voters standing in line at polling places and searching for candidate information on mobile devices are increasingly becoming the target of Google advertisers hoping to pick up every last vote. Candidates have for years placed ads on Google platforms to attract the attention of searchers. But Tuesday's elections saw a large number of down ballot candidates buying Google mobile ads with the goal of capturing the attention of people waiting on line at the polling stations.
The Hill: Bloomberg to headline fundraiser for Reid
New York City Mayor Michael Bloomberg (I) is set to host a fundraiser for Senate Majority Leader Harry Reid (D-Nev.) in September. Bloomberg and Reid are a bit of an odd pair, given that Reid recently broke with President Obama on his support for a planned Islamic center and mosque near Ground Zero in New York. Reid became the most prominent Democrat to say the project should be built somewhere else.
Lexington Herald-Leader: Gov. Beshear tells farm group Rand Paul's policies would hurt them
Democratic Gov. Steve Beshear sharply criticized Republican U.S. Senate nominee Rand Paul on Thursday, telling a farm group of about 1,600 that Paul's agricultural policies would hurt them. Without mentioning Paul by name, Beshear said Kentuckians are hearing "a lot of loose political talk" about the need to eliminate federal programs that provide a safety net for farmers, such as farm subsidies and efforts to "shutter the doors" of the U.S. Department of Agriculture.
Albany Times Union: Did Paterson break the law?
Gov. David Paterson gave "inaccurate and misleading" testimony about whether he had intended to pay for Yankees World Series tickets last year and it is now up to Albany County District Attorney David Soares to decide if criminal perjury charges should be brought forward, according to a report released Thursday.
NATIONAL
For the latest national news: www.CNN.com
CNN: Carter wins release of American from North Korea
Former President Jimmy Carter is expected to arrive in the United States Friday with a U.S. citizen who was imprisoned in North Korea after entering it illegally in January, the Carter Center in Atlanta, Georgia, said.
CNN: Feed one likely source of salmonella in eggs, federal officials say
Federal investigators have found salmonella bacteria in chicken feed and in barn and walkway areas at Iowa farms at the center of the nationwide outbreak, officials said. The feed or feed ingredients could have become contaminated after they went through heat treatment that was sufficient to kill salmonella, officials from the Food and Drug Administration told reporters.
Portland Press Herald: Man detained in bomb probe freed on bail
A South Portland man who was jailed for 15 weeks while federal authorities investigated whether he was connected to the attempted Times Square bombing is free after his family posted $10,000 cash bail.
Washington Post: Administration halts prosecution of alleged USS Cole bomber
The Obama administration has shelved the planned prosecution of Abd al-Rahim al-Nashiri, the alleged coordinator of the Oct. 2000 suicide attack on the USS Cole in Yemen, according to a court filing. The decision at least temporarily scuttles what was supposed to be the signature trial of a major al-Qaeda figure under a reformed system of military commissions. And it comes practically on the eve of the 10th anniversary of the attack, which killed 17 sailors and wounded dozens when a boat packed with explosives ripped a hole in the side of the warship in the port of Aden.
New York Times: Struggling Cities Shut Firehouses in Budget Crisis
Fire departments around the nation are cutting jobs, closing firehouses and increasingly resorting to "rolling brownouts" in which they shut different fire companies on different days as the economic downturn forces many cities and towns to make deep cuts that are slowing their responses to fires and other emergencies.
Washington Post: Obama administration sides with utilities in Supreme Court case about climate change
The Obama administration sided with major utility companies in a Supreme Court case about climate change on Thursday, angering environmentalists who say that the administration's broad argument could hurt their ability to force reductions in greenhouse gas emissions or even to bring other lawsuits.
National Public Radio: Panel Recommends Lifting Of Oil Drilling Moratorium
President Obama's ban on deep-water oil drilling has served its purpose, and oil companies should be able to resume drilling if they meet new government standards, an independent panel said Thursday.
Newark Star Ledger: U.S. officials refute Christie on attempt to fix Race to the Top application during presentation
When New Jersey failed to win up to $400 million in federal education money, Gov. Chris Christie blamed Washington bureaucrats, saying they refused to allow the state to fix a simple error in its application. But Thursday, the U.S. Department of Education released video footage contradicting Christie's claim. The video shows state officials struggling and failing to provide correct budget information during a 90-minute presentation. In addition, a federal official said the state never provided the required information.
INTERNATIONAL
For the latest international news: http://edition.cnn.com
CNN: Carter wins release of American from North Korea
Former President Jimmy Carter is leaving North Korea Friday with a U.S. citizen who was imprisoned in the communist country after entering it illegally in January, the Carter Center in Atlanta, Georgia, said.
CNN: Officials in flood-ravaged Pakistan urge 500,000 new evacuations
Pakistan's government has warned about 500,000 people in the country's southeastern Sindh province they should evacuate immediately because of possible flooding, government officials said Thursday.
Times of London: Russia poised to intervene as ethnic violence rages in Kyrgyzstan
The Kremlin edged closer last night to military intervention in Kyrgyzstan as the number of people killed in ethnic violence spiralled and as many as 100,000 refugees flooded neighbouring Uzbekistan.
BBC: Canadian police charge three in suspected terror plot
Three Canadians arrested in an alleged terrorist conspiracy had bomb parts and plans and posed a "real and serious threat", Canadian police have said.
CNN: U.S. soldiers charged with conspiracy in killings of Afghans
Five U.S. soldiers facing murder charges in the deaths of three Afghan civilians earlier this year have now been charged with "conspiracy to commit premeditated murder," and seven more soldiers have been charged in connection with the probe into the incidents.
BUSINESS
For the latest business news: www.CNNMoney.com
CNN Money: FAA hits American Airlines with biggest fine ever
Federal aviation regulators slapped American Airlines on Thursday with the largest fine in history, charging that the carrier made thousands of unsafe flights. The Federal Aviation Administration said it has "proposed" a $24.2 million civil penalty for American Airlines' failure to properly inspect wire bundles in the wheel wells of its MD-80 aircraft.
Los Angeles Times: Weak GDP raises stakes for Obama, Fed
The widening consensus that the U.S. economy has slowed to a crawl will be hammered home Friday with the government's expected announcement that the nation's second-quarter growth was far more anemic than previously estimated.
Wall Street Journal: Credit-Card Issuers Scramble for Profits
Faced with a raft of new regulations and customers who are spending less on their cards, executives at the nation's biggest issuers of plastic such as J.P. Morgan Chase & Co. and Citigroup Inc. are bracing for a less profitable future. As a result, they are scrambling to figure out how to make money in a business that is shrinking while getting more costly to operate.
Washington Post: Flow of imports drags down economic growth
A widening U.S. trade deficit has become a substantial drag on economic growth as the country's exports struggle to keep pace with the swelling sums that Americans are again spending on imported goods.
In Case You Missed It
CNN's Jeanne Meserve takes a look at FEMA's approach on the fifth anniversary of Hurricane Katrina.
http://www.cnn.com/video/#/video/us/2010/08/26/am.meserve.fema.then.now.cnn
Is former GOP leader Ken Mehlman, who has told friends and family he is gay, a courageous conservative or a hypocrite?
http://www.cnn.com/video/#/video/bestoftv/2010/08/26/ricks.r.clarke.cooper.intv.cnn
Subscribe to the CNN=Politics DAILY podcast at http://www.cnn.com/politicalpodcast
And now stay posted on the latest from the campaign trail by downloading the CNN=Politics SCREENSAVER at http://www.CNN.com/situationroom