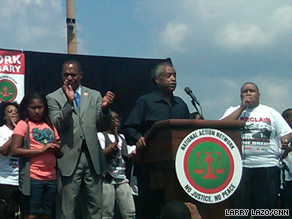 Al Sharpton told a rally in Washington that he will not let conservatives 'turn back the clock.'
(CNN) - The Rev. Al Sharpton, who is spearheading the "Reclaim the Dream" march and rally Saturday on the 47th anniversary of the Rev. Martin Luther King, Jr.'s "I Have a Dream" speech, indicated that conservative forces will face a fight in the upcoming elections.
"We're coming out to fight and we're not going to let you turn back the clock," he said.