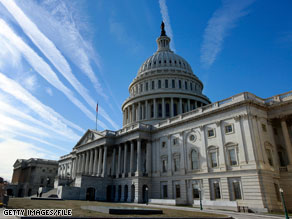 The CNN 100 takes a look at the top 100 House races, from now until Election Day.
Editor's Note: In the final 100 days before Election Day, CNN has been profiling one race at random each day from among the nation's top 100 House races, which we've dubbed "The CNN 100." Read the full list here. Today's featured district is:
Florida 22nd: Rep. Ron Klein (D) is seeking a third term
Primary: August 24, 2010
Location: Southeast Florida, coastal Broward and Palm Beach counties, parts of Fort Lauderdale and Boca Raton
Days until Election Day: 64
Florida's 22nd district will be the site of one of many political rematches in 2010, as Democratic Rep. Ron Klein faces off against his 2008 GOP opponent, Allen West.
Klein, currently serving his second term, was first elected in 2006 after unseating 13-term GOP incumbent Clay Shaw. He has been a loyal Democratic vote in Congress, supporting major Democratic policy initiatives such as health care reform and the economic stimulus plan. Those votes have led former GOP vice presidential nominee Sarah Palin, who is backing West, to describe Klein as a "left-wing ideologue who's marched to the beat of Nancy Pelosi."
West, a retired Army lieutenant colonel, served in Iraq in both Operation Desert Storm in the 1990s and the more recent Operation Iraqi Freedom. He has also worked in Afghanistan training Afghan officers. Klein defeated West in the 2008 general election, winning 55 percent to West's 45 percent. If elected this year, West would likely be the only African American Republican in the U.S. House.
The Klein campaign aired the first ad of the general election shortly after polls had closed on Primary Day last Tuesday. The spot raised questions about West's personal finances and said he has the "wrong values for South Florida." West stayed positive in his first general election spot, which did not mention Klein and instead prominently featured children reciting the Pledge of Allegiance.
Unlike in 2008, West has been very competitive in terms of campaign cash. By early August, he had raised an impressive $4 million, compared to $2.5 million for Klein. But the two nominees were on more equal footing in terms of cash-on-hand. Klein had $2.8 million in the bank at the start of the month, compared to $2.2 million for West.
The 22nd district is located in South Florida and covers most of Palm Beach and Broward counties' Atlantic coastlines. The district is home to ritzy hotels and shopping centers and relies heavily on the tourism industry. Although its residents are mostly well-off, they are not immune to the economic climate, and Florida's high 11.5 unemployment rate should give the incumbent cause for concern.
The district voted for Democratic presidential candidates in the last five election cycles. In 2008, President Barack Obama won with 52 percent of the vote.
Despite the district's Democratic leanings in presidential races, it has a long history of voting Republican in House elections. Klein is not at the top of the list of GOP targets this year, but he cannot take the West challenge lightly, especially considering West's healthy fundraising and his respectable showing here in the Democratic-friendly year of 2008.