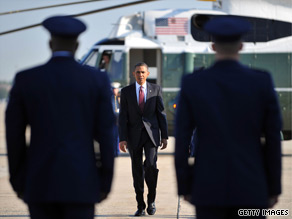 President Obama will give an Oval Office address Tuesday night.
Washington (CNN) - When President Obama steps into the Oval Office to deliver his prime-time address on Tuesday, he won't be taking a victory lap and won't utter the words "mission accomplished, a top aide says. Instead, the president will have a "change of mission" moment, where he explains the way forward in Iraq and thanks U.S. troops for their sacrifice.
The address, which is expected to last between 15 and 20 minutes, will mark what the White House is calling an important "milestone" and a campaign promise accomplished.
While the president's remarks have not been released, top aides say Americans will hear about the end of the combat mission in Iraq, about the challenges of forming a unified and stable government, and about the new role for the fewer than than 50,000 U.S. troops remaining to advise and assist Iraqi security forces.

Full story