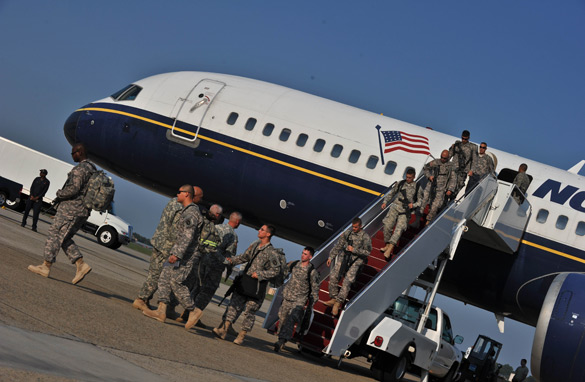 U.S. soldiers from Charlie Company, 1st Battalion of the 3rd Infantry Regiment, known as the Old Guard, return home from Iraq to Andrews Air Force Base on Saturday. (PHOTO CREDIT: Getty Images)

Editor's Note: Watch President Obama's speech live on CNN at 8 p.m. ET Tuesday, online, on TV and on the CNN App for the iPhone.
Washington (CNN) - Almost 7½ years ago, President George W. Bush launched a blistering "shock and awe" invasion of Iraq.
The goal: eliminate a perceived threat of weapons of mass destruction while replacing a hostile, tyrannical regime with a friendly democracy in the heart of the Middle East.
At 5 p.m. ET Tuesday - at a cost of more than 4,400 U.S. military personnel killed and 30,000 wounded - America's combat mission in Iraq will officially draw to a close.
The quick removal of Iraqi leader Saddam Hussein ushered in years of grinding sectarian violence, war, terrorist attacks and, according to some observers, increased Iranian influence in the region. But it also paved the way for nationwide elections and increasing economic development.
Whether the war was worth the price remains a subject of fierce debate both at home and abroad.