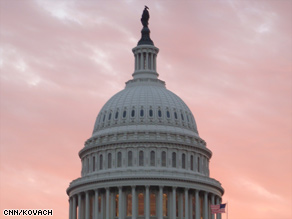 The CNN Washington Bureau's morning speed read of the top stories making news from around the country and the world.

WASHINGTON/POLITICAL
For the latest political news:  www.CNNPolitics.com
CNN: Obama declares 'combat mission in Iraq has ended'
President Obama declared that "the American combat mission in Iraq has ended" in his primetime address Tuesday. "Operation Iraqi Freedom is over, and the Iraqi people now have lead responsibility for the security of their country," he said. The president addressed the economic crisis in America by talking about how restoring prosperity at home is critical to maintaining the nation's strength abroad. Obama said getting the economy back on track is his "central responsibility as president."
CNN: U.S. Vice President Biden to mark transfer of U.S. command in Iraq
After more than seven years of American military operations in Iraq, U.S. Vice President Joe Biden will help mark the transfer of U.S. military command in Iraq on Wednesday. The historic ceremony is scheduled to take place at 3 p.m. (8 a.m. ET). While the U.S. combat mission is ending, roughly 50,000 American troops will remain in the country until the end of 2011. Their mission will be to train, assist and advise the Iraqis.
CNN: Obama envoy sees 'window of opportunity' for Mideast peace
Fresh off a major speech on Iraq, President Barack Obama on Wednesday turns his attention to the extremely difficult task of trying to broker Mideast peace, with his special envoy declaring there is a "window of opportunity" for Israeli and Palestinian leaders to achieve an historic deal within one year.
CNN: Oval Office extreme makeover
It may not have been a design on a dime but the Oval Office underwent an extreme makeover and, just like the popular television program of the same name, the renovation was done while the First Family was away on vacation.
Politico: Penthouse CEO raises for Crist
Florida Gov. Charlie Crist will get a late fundraising burst for his independent Senate bid from Penthouse CEO Marc Bell, according to an invitation obtained by POLITICO. The evening event will be held at Bell's Boca Raton home on Oct. 7, less than a month before Crist faces Republican Marco Rubio and Democratic Rep. Kendrick Meek in one of the most closely watched Senate races in the country.
CNN: Murkowski concedes Alaska GOP Senate primary
Alaska Sen. Lisa Murkowski conceded late Tuesday to Tea Party-backed candidate Joe Miller in Alaska's GOP Senate primary. "We know that we still have outstanding votes to count in this primary, but based on where we are right now, I don't see a scenario where the primary will turn out in my favor," Murkowski told reporters in Anchorage. "I am now conceding the race for the Republican nomination."
The Hill: Reid puts renewables mandate in play, eyes lame-duck energy bill
Senate Majority Leader Harry Reid (D-Nev.) said Tuesday a nationwide renewable-electricity standard, or RES, is "absolutely" in the mix as he tries to salvage energy legislation this year — possibly in a lame-duck session. Before the August recess, Reid said he doubted an RES — which would require utilities to provide escalating amounts of power from sources like wind and solar energy — could win 60 votes. It was left on the cutting-room floor when Reid unveiled a modest energy bill in late July.
Charleston Post and Courier: Wilson target of ethics probe
U.S. Rep. Joe Wilson of South Carolina is being investigated for potential misuse of travel stipends, a probe that his staff said Tuesday is over six $2 souvenir goblets he bought in Afghanistan for military families.
CNN: 2012 Watch: Citing goats, Armey declines 2012 bid
Dick Armey, the former Republican majority leader and lobbyist who has resurrected himself as a leader of the Tea Party movement, won't be running for president in 2012. The reason? Goats. Asked about running for president in 2012 during an interview with the Texas Tribune that was published Tuesday, Armey said he wouldn't be throwing his hat in the ring. "Oh, no, no, no, no. I've got 34 goats that depend on me daily. I couldn't be away that long," the FreedomWorks chairman said.
CNN: 2012 Watch: Perry shuts door on presidential bid
Texas Gov. Rick Perry essentially closed the door on a 2012 bid for the Republican nomination for president last week at rally held for his gubernatorial campaign. "I have no intention to go to Washington, D.C.," Perry said, according to The Texas Tribune. He added: "Except maybe to go to a museum, like the Smithsonian."
Des Moines Register: Grassley: Market, not feds, may punish DeCoster
Sen. Charles Grassley says consumers could do what the government hasn't – put egg producer Jack DeCoster out of business. The Food and Drug Administration probably can't shut down DeCoster short of finding criminal activity, but "the marketplace is making the determination if the law doesn't," Grassley said.
NATIONAL
For the latest national news:  www.CNN.com
CNN: 'Intense' Hurricane Earl heads toward the United States
Hurricane Earl is approaching the United States just ahead of Labor Day, a holiday weekend that many families spend at the beach. The National Hurricane Center issued a hurricane watch for most of the North Carolina coast, from Surf City, North Carolina, to the state's northern border with Virginia, including the Pamlico and Albemarle Sounds. It called Hurricane Earl "large and intense."
CNN: Officials say effort to kill oil well still stalled
Thad Allen, the government's point man on the BP oil disaster, said Tuesday current weather conditions are too rough to remove the blowout preventer on BP's ruptured well in the Gulf of Mexico, but winds may ease enough by the weekend for work to continue.
CNN: Gates marks end of Operation Iraqi Freedom with emotion and warning
Just hours before the official end of Operation Iraqi Freedom, Defense Secretary Robert Gates grew emotional when discussing the toll it has taken on American men and women in uniform. "Today, at the end of Operation Iraqi Freedom, 4,427 American service members have died in Iraq, 3,502 of them killed in action; 34,265 have been wounded or injured," Gates said, appearing to choke up before an audience at the American Legion convention in Milwaukee Tuesday. "We must never forget."
Kansas City Star: KC veterans, families feel conflicted as last U.S. combat troops leave Iraq
Their voices matter in any debate about the war in Iraq. The soldiers and Marines and others who left a part of themselves there, enduring horrific battle wounds and witnessing scenes that they pray to forget. For those who didn't come home, it's their families who will speak, and remember. All will forever be connected with Iraq, even if the United States' combat mission there has ended.
USA Today: Iraq to spend $13B on U.S. arms, equipment
Iraq is preparing to buy as much as $13 billion in American arms and military equipment, a huge order of tanks, ships and hardware that U.S. officials say shows Iraqi-U.S. military ties will be tight for years to come.
CNN: Government appeals court ruling blocking stem-cell research funding
The Justice Department, as promised, moved Tuesday to block a court ruling preventing use of government funds for embryonic stem cell research. The lower-court decision that bars the use of publicly funded stem-cell work had stunned the Obama administration, which had vowed to appeal.
New York Times: Formula to Grade Teachers' Skill Gains in Use, and Critics
How good is one teacher compared with another? A growing number of school districts have adopted a system called value-added modeling to answer that question, provoking battles from Washington to Los Angeles — with some saying it is an effective method for increasing teacher accountability, and others arguing that it can give an inaccurate picture of teachers' work.
Detroit Free Press: Feds to defray Mich. early-retiree health costs
Nearly 100 Michigan corporations, governmental and non-profit agencies, schools and unions are among the first 2,000 organizations in the nation scheduled to receive new federal money to offset health insurance costs for early retirees.
New York Daily News: Osama bin Laden aide gets life for attack that left prison guard brain damaged
One of Osama bin Laden's top henchmen was sentenced to life in prison on Tuesday for stabbing a prison guard in the eye after his wheelchair-bound victim angrily told him "you're going to hell."
INTERNATIONAL
For the latest international news:  http://edition.cnn.com
CNN: Pakistan says it's not aware of India's $20M offer for flood relief
India offered another $20 million in aid to its neighbor and rival Pakistan on Tuesday, but an official in the flood-ravaged country said he has no knowledge of the aid. Abdul Basit, spokesman for Pakistan's Foreign Ministry, said Tuesday he is not aware of such an offer by India. Basit said India was formally notified that Pakistan would accept an earlier offer of $5 million through the United Nations - but not directly from India.
CNN: 4 Israelis shot dead in West Bank
Four Israelis - including a pregnant woman - were killed Tuesday near Hebron in the West Bank in a shooting for which the militant wing of Hamas claimed responsibility, officials said.
CNN: Cancun, Mexico, bar bombed; 8 dead
Eight people died early Tuesday after attackers hurled several Molotov cocktails into a Cancun, Mexico, bar, the state attorney general said. …Eight men hurled the explosives at the bar and fled in vehicles, the release said. No shots were fired. Although the tavern is just 5 kilometers from the city's tourist stretch, it sits apart from the area frequented by tourists, and the clientele is composed of locals, it said.
New York Times: Afghan Government Moves to Bolster Leading Bank
The Afghan government intervened to shore up a deeply troubled bank on Tuesday, sending shock waves through the capital and prompting fears that Afghanistan's pervasive corruption had now put the country's entire financial system at risk.
Washington Post: China pushes new talks with North Korea, but others are skeptical
China is in the midst of a sales pitch. It is pushing for the resumption of six-party talks, the process concocted seven years ago to end a North Korean nuclear program that has not yet ended. This time, Beijing says North Korean leader Kim Jong Il is onboard. And in recent days, China has sent its nuclear envoy to South Korea and Japan, touting the six-party idea to Washington's closest Asian allies.
CNN: Castro admits 'injustice' for gays and lesbians during revolution
Former Cuban leader Fidel Castro said he acknowledges the persecution of gays and lesbians during the Revolution in his country, according to a newspaper interview published Tuesday.
BUSINESS
For the latest business news:  www.CNNMoney.com
CNN Money: Problem bank list climbs to 829
The government's list of troubled banks hit its highest level since 1993 during the second quarter, although the pace of growth continued to slow, according to a government report released Tuesday. The number of banks at risk of failing rose by 53 to 829, the Federal Deposit Insurance Corp. said in its quarterly survey of the nation's banking system. That increase marks the smallest rise since the first quarter of 2009.
Washington Post: Homes prices up 4.2% in U.S., 7.3% in Washington area
Prices for single-family homes in major U.S. cities rose a modest 4.2 percent in June from a year earlier, but economists cautioned that the bounce was likely due to a now-expired home-buyer tax credit and that prices would likely fall, perhaps dramatically, in the coming months.
CNN Money: Car dealers fight for a second chance
When Chrysler and GM filed for bankruptcy in 2009 they planned to shutter thousands of dealerships across the country. Fewer than one third of the dealers who hoped to stay in business are in the running for a comeback.
In Case You Missed It
Paul Begala, CNN Political Contributor, accuses President Bush of lying about why the U.S. entered the war in Iraq.
http://www.cnn.com/video/#/video/politics/2010/08/31/ac.begala.fleischer.bush.iraq.cnn
Do Muslims have a right to build their mosque? Anderson Cooper hears from both sides
http://www.cnn.com/video/#/video/bestoftv/2010/09/01/ac.mosque.burning.guests.cnn
Subscribe to the CNN=Politics DAILY podcast at http://www.cnn.com/politicalpodcast
And now stay posted on the latest from the campaign trail by downloading the CNN=Politics SCREENSAVER at http://www.CNN.com/situationroom