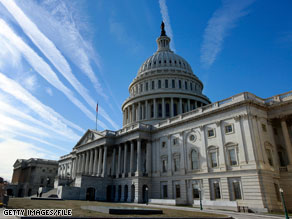 The CNN 100 takes a look at the top 100 House races, from now until Election Day.
Editor's Note: In the final 100 days before Election Day, CNN has been profiling one race at random each day from among the nation's top 100 House races, which we've dubbed "The CNN 100." Read the full list here. Today's featured district is:
Kentucky 3rd - Rep. John Yarmuth is seeking a third term.
Date of primary: May 18, 2010
Location: Louisville and surrounding suburbs
Days until Election Day: 60
At first glance, a Kentucky congressional district that Republicans recently held for a decade would appear to be a prime potential pickup for the GOP in a year when so many races are breaking the party's way.
But in Kentucky's Third Congressional District, Democratic Rep. John Yarmuth appears to be firmly in the driver's seat - the result of both a district that has leaned more Democratic than the national average and an underfunded and inexperienced candidate.
While much of Kentucky continues to grow more conservative, in the third district, which encompasses Louisville and its surrounding suburbs, Democrats continue to have the clear edge. In the presidential races of 2000 and 2004, Democrats Al Gore and John Kerry won narrow victories despite the fact the state's five other districts went solidly for George W. Bush. In 2008, the district's split with the state was even more dramatic, with President Obama winning 56 percent of the vote while Sen. John McCain prevailed statewide by a 57-41 percent margin.
Still, the district is by no means hostile to Republicans; voters there elected Republican Anne Northrup to the seat for five straight terms from 1997-2007, and Northrup's loss to Yarmuth in the wave election of 2006 was one of the Democrat's biggest upsets in a cycle filled with upsets.
But Northrup, a former state legislator, was well-funded and battle-tested – two key attributes lacking in the GOP candidate this year, Todd Lally. Lally enjoys the support of Tea Party organizations and, as a veteran of the wars in Iraq and Afghanistan, has a compelling biography.
But his only political experience is a failed bid at the state legislature, and, as of last check, his cash on hand was less than half that of Yarmuth's.
Adding to Lally's hurtles is the fact he captured the GOP nomination by running markedly to the right during the primary in May and now must face a considerably more moderate electorate.
Still, in a year Democrats are in trouble across the country, Yarmuth may not be all together immune given he has deviated little from the party line in 2009. According to Congressional Quarterly, 97 percent of his votes have aligned with President Obama's position and 99 percent have matched that of the party.