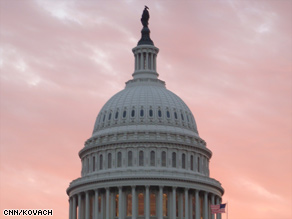 The CNN Washington Bureau's morning speed read of the top stories making news from around the country and the world.
WASHINGTON/POLITICAL
For the latest political news:  www.CNNPolitics.com
CNN: President mulls new measures to spark economy
After a week mostly focused on Iraq and Mideast diplomacy, it's back to the economy for President Barack Obama, who will deliver remarks Friday on the August unemployment numbers.
CNN: Mideast peace talks stir hope but few illusions
The latest round of peace talks between the Israelis and Palestinians is starting off much like similar endeavors in the past, but the Obama administration hopes that this time, the outcome will be different.
CNN: Obama to hold news conference September 10
President Obama will have a news conference next Friday September 10, his first full-scale question-and-answer session at the White House in nearly four months according to his aides.
CNN: Obama and Biden headed back to Ohio
President Obama and Vice President Biden are both returning to Ohio next week, the fourth White House visit to the politically crucial state in less than a month. The White House said Thursday that President Obama will make remarks on the economy in Cleveland next Wednesday. Two days earlier, Vice President Biden will be in Toledo for Labor Day events.
Washington Post: White House considers pre-midterm package of business tax breaks to spur hiring
With just two months until the November elections, the White House is seriously weighing a package of business tax breaks – potentially worth hundreds of billions of dollars – to spur hiring and combat Republican charges that Democratic tax policies hurt small businesses, according to people with knowledge of the deliberations.
Wall Street Journal: GOP Works to Woo Voters But Not Give Rivals Fodder
House Republicans are hunting for an election-season middle ground on which they can make promises to voters without providing enough details to be attacked by Democrats. At the same time, some Republican candidates are independently embracing controversial proposals for Social Security and other topics that Democrats have already begun using against the GOP.
CQ Politics: GOP Committees Look to Outside Groups to Fund Fall Ground Game
Republican strategists wary of relying on a Republican National Committee beset by controversy are relying on third-party organizations to fund and manage crucial ground game operations for the midterm elections.
New York Times: Fewer Young Voters See Themselves as Democrats
The college vote is up for grabs this year — to an extent that would have seemed unlikely two years ago, when a generation of young people seemed to swoon over Barack Obama. Though many students are liberals on social issues, the economic reality of a weak job market has taken a toll on their loyalties: far fewer 18- to 29-year-olds now identify themselves as Democrats compared with 2008.
Politico: Gov. candidates in 20 states endorse anti-immigration laws
It's not just Arizona. In states far from the Mexico border — from liberal Massachusetts to moderate Iowa — Democrats and Republicans in gubernatorial races are running on strict anti-illegal-immigration platforms, pledging to sign an array of tough enforcement measures into law come January.
CQ Politics: Wisconsin: Johnson Outraises Feingold in Pre-Primary Period
Republican challenger Ron Johnson raised more money in July and August than Wisconsin Sen. Russ Feingold (D), according to pre-primary figures released by the two campaigns on Thursday. Johnson announced on Thursday he collected $1.2 million from donors from July 1 to Aug. 25, nearly $300,000 more than Feingold's $920,000 haul. Johnson loaned his campaign an additional $2.9 million out of his own pocket, bringing his total raised in the pre-primary period to $4.1 million.
CNN: Anchor Notes: John King and Sheriff Joe Arpaio
A defiant Sheriff Joe Arpaio accused the Obama Justice Department of trying to "sandbag" him by filing suit against his office Thursday. On another issue rippling through Arizona politics, the lawman said he has never heard of a beheading in Arizona tied to illegal immigration.
Cincinnati Enquirer: Suit challenges Ohio's absentee voting system
Ohio's method of mailing and handling absentee ballots is unconstitutional because different counties follow different rules, a federal lawsuit claimed Thursday. The suit, filed by voters in four Ohio counties, asks a federal judge in Cincinnati to stop county boards of elections from mailing absentee ballots until the state adopts a uniform policy that is fair to voters in all counties.
NATIONAL
For the latest national news:  www.CNN.com
CNN: Earl's winds, rain whip North Carolina's Outer Banks
A weakened Hurricane Earl brushed North Carolina's Outer Banks overnight as residents along the Eastern seaboard braced for a stormy Friday. Warnings and watches stretched from North Carolina to Canada, including Massachusetts, where a hurricane warning was issued for Cape Cod, Martha's Vineyard, Nantucket and the surrounding area.
CNN: Passenger detained at Miami airport after suspicious item found
A passenger was detained and bomb squad investigators were at Miami International Airport on Friday after investigators spotted a suspicious item in a baggage screening area, authorities said.
CNN: Fire out, no sheen visible at Gulf oil platform
A fire on a well connected to an oil and gas production platform in the Gulf of Mexico is out and there is no indication of an oil sheen, the U.S. Coast Guard said Thursday. There were no serious injuries among the platform's rescued 13 crew members, who were wearing survival suits when they were plucked out of the water.
CNN: Cap is off BP's ruptured well
Crews removed the cap from BP's ruptured Gulf of Mexico oil well late Thursday afternoon, a company spokeswoman said, an important step toward permanently sealing the well. The operation was the first step in removing the blowout preventer, said BP spokeswoman Jessie Baker. That device failed spectacularly in April, triggering a deadly explosion and oil spill.
CNN: Discovery Channel attacker convicted of smuggling immigrant in 2003
The gunman who held three people hostage at the Discovery Channel headquarters was once convicted of smuggling an illegal immigrant into the country from Mexico. In 2003, James Lee, pleaded guilty to smuggling a woman from Tijuana, according to documents from a California federal court. He was sentenced to 18 months in prison for the crime.
New York Times: Employers Push Costs for Health on Workers
As health care costs continue their relentless climb, companies are increasingly passing on higher premium costs to workers. The shift is occurring, policy analysts and others say, as employers feel more pressure from the weak economy and the threat of even more expensive coverage under the new health care law.
San Francisco Chronicle: Court won't force state to defend Prop. 8
The outlook for the legal defense of Proposition 8, California's ban on same-sex marriage, grew cloudier Thursday as a state appellate court refused to order Gov. Arnold Schwarzenegger and Attorney General Jerry Brown to appeal a federal judge's ruling overturning the measure.
CNN: Judge removes 'birther' elements from Army doc's court martial
A judge on Thursday denied a request for President Barack Obama to testify at a court martial for a U.S. Army flight surgeon who refused to deploy to Afghanistan until he saw proof that Obama was born in the United States. The judge, Army Col. Denise Lind, said any evidence or witnesses related to Obama's citizenship is irrelevant to the charges against Lt. Col. Terrence Lakin, who has 17 years of service in the U.S. military.
Salt Lake Tribune: Attorneys say Utah can't block $101M in school aid
The chances of Utah going to court to try to refuse $101 million in federal education money appear to have been dashed Thursday by a dismissive legal opinion from the Attorney General's Office. Assistant Attorney General Jerrold Jensen said in the opinion that the chance of the courts finding the law unconstitutional is "about as close to zero as one can get."
New York Times: Dispute Over Witness in Embassy Bombing Case
With the trial of a terrorism suspect held for nearly five years in the C.I.A.'s "black sites" and later in the military prison at Guantánamo Bay, Cuba, only weeks away, a dispute has arisen over the role of a key government witness.
Atlanta Journal Constitution: Charges dropped for sick illegal immigrant
An illegal immigrant charged with trafficking cocaine worth millions of dollars suffered a massive stroke in the Douglas County jail earlier this year and ran up $400,000 in medical bills that were charged to the county. Authorities in Douglas decided to dismiss the charges against Luis Luna Baro, 71 - in large part because the county didn't want to cover his bills anymore, The Atlanta Journal-Constitution has learned.
CNN: Convicted killer claiming innocence is spared death penalty in Ohio
An Ohio death row inmate who has repeatedly claimed his innocence was spared execution, after the state's governor Thursday noted "legitimate questions" about evidence used to convict the man.
INTERNATIONAL
For the latest international news:  http://edition.cnn.com
CNN: Hamas, 10 other groups pledge to continue targeting Israelis
Members of the militant wing of Hamas and representatives of 10 other militant groups met Thursday and said they were joining forces and that attacks on Israelis would continue.
CNN: Protesters hold anti-Israel rallies in Iran
Protesters gathered in Iran on Friday for a demonstration to observe an annual holiday that marks the country's solidarity with Palestinians and calls for the end of Israel occupation. Large crowds chanted "Death to Israel" and "Death to America" in Palestine Square near Tehran University. A man with a loudspeaker was chanting the slogans, with the crowd repeating after him.
McClatchy: Karzai, NATO at odds over another Afghan airstrike
Afghan President Hamid Karzai and NATO disagreed Thursday over whether an airstrike in northern Afghanistan killed the top member of a re-emerging insurgent group or 10 election workers. The dispute here refueled some of the thorniest issues plaguing U.S.-Afghan relations as Defense Secretary Robert Gates made his first visit to Afghanistan since President Barack Obama ousted Army Gen. Stanley McChrystal as the Afghanistan commander and replaced him with Gen. David Petraeus.
New York Times: Depositors Panic Over Bank Crisis in Afghanistan
One of the principal owners of the Afghan bank at the center of an accelerating financial crisis here said depositors had withdrawn $180 million in the past two days. He predicted a "revolution" in the country's financial system unless the Afghan government and the United States moved quickly to help stabilize the bank.
CNN: For first time in Iraq or Afghanistan wars, U.S. military chaplain is killed
For the first time in the wars in Iraq and Afghanistan, a U.S. military chaplain has been killed in action. On August 30, U.S. Army chaplain Capt. Dale Goetz, 43, was killed in the Arghandab River Valley in Afghanistan, when the convoy he was traveling in was struck by an improvised explosive device, according to the Department of Defense. Four other soldiers also were killed in the attack.
CNN: Mexican shootout leaves 25 drug suspects dead
A shootout between soldiers and suspected drug dealers in northeast Mexico left 25 of the suspects dead, the regional military said Thursday.
CNN: Outside the Chilean mine, great expectations
The ordeal of waiting for a miner trapped 2,200 feet below ground in Chile to be rescued can be perhaps more anguishing if you're also waiting for a minor to emerge. That's the case with Elizabeth Segovia, who discovered August 4 by looking at a grainy ultrasound that she and her husband, Ariel Ticona, were expecting a girl.
BUSINESS
For the latest business news:  www.CNNMoney.com
Washington Post: 25 percent of employed were jobless during recession, study says
Just over a quarter of the nation's 139 million currently employed workers endured a bout of unemployment during the Great Recession, according to results of a Pew Research Center survey released Thursday. And they tend to be less satisfied in their current jobs than are other workers.
USA Today: Labor Day holiday travel should be up from last year
Americans will take to the roads and skies for the Labor Day holiday in greater numbers than a year ago, thanks to low gas prices and pent-up demand for air travel, experts say.
Desmoines Register: Midwest managers: New recession likely
More than a third of supply managers in nine Midwest and Great Plains states surveyed for a regional business index expect the U.S. economy to fall into another recession next year, even as key measures of the index remained positive.
In Case You Missed It
CNN's John King leads discussion about Arizona Gov. Jan Brewer's 16-second pause during her gubernatorial debate.
http://www.cnn.com/video/#/video/politics/2010/09/02/jk.brewer.debate.stumble.cnn
Rep. Eddie Bernice Johnson responds to accusations regarding charitable scholarships going to family members.
http://www.cnn.com/video/#/video/politics/2010/09/02/ac.eddie.bernice.johnson.cnn
Subscribe to the CNN=Politics DAILY podcast at http://www.cnn.com/politicalpodcast
And now stay posted on the latest from the campaign trail by downloading the CNN=Politics SCREENSAVER at http://www.CNN.com/situationroom