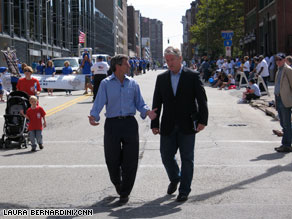 John King and Joe Sestak on the trail in Pittsburgh.
Editor's note: Trail Running will be the source for field updates from CNN's anchors, correspondents and producers spread out across the country covering politics on the campaign trail. As always, the CNN Political Ticker is your source for up-to-the-minute political news– now even more so.
1247 p.m. ET: Pittsburgh, Pennsylvania – Walked some of the Labor Day parade with Congressman Joe Sestak, the Democratic Senate nominee. He acknowledges he's down "single digits" against Republican opponent Pat Toomey but says he's confident he can win. Says his key is proving he is "an independent voice who happens to believe in Democratic principles." Whatever you think of his politics, he's an energetic campaigner - running from side to side to glad hand during the parade.