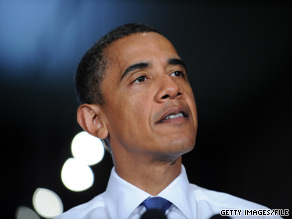 President Obama travels to Wisconsin on Monday.
Washington (CNN) - On a day when President Obama is traveling to Wisconsin to call for $50 billion in public works spending to spur job creation, the chairman of the Wisconsin Republican party said the state should reject the money.
In a conference call with reporters organized Monday by the Republican National Committee, Wisconsin GOP chairman Reince Priebus claimed that the president's pitch will "fall on deaf ears" and said that the spending proposal is "going to make him more unpopular than he is."
"These guys couldn't find $50 billion in the trillions they have already spent?" he asked. "The whole thing is absurd. We are upside down in this country and this isn't going to do a thing to change that."
Priebus said Wisconsinites don't want the money, pointing to a proposed high-speed rail line between Milwaukee and Madison that would be funded by money from the original stimulus bill. The Milwaukee Journal-Sentinel reported in June that just 41 percent of Milwaukee area residents support the rail system.
He wants to spend a billion dollars on a train between Milwaukee and Madison that people don't want," Priebus said of the president (the train system would actually cost the government $810 million).
"Last I checked on the stimulus, the federal government proposed just short of $30 billion in roads and infrastructure in last stimulus plan. Certainly that didn't help much in the economy," he said.
CORRECTION: The original version of this story said that $47 million worth of stimulus funds would be used to pay for the rail line, when in fact the government granted the state $810 million to fund for the project.