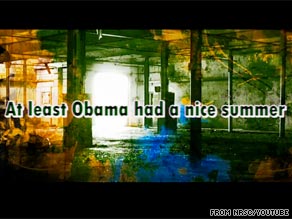 The NRSC is out with a new web ad Tuesday.
(CNN) - It hasn't been the best of summers for congressional Democrats and now Republicans are making an effort to remind voters just how difficult the last three months have been for the party in charge in Washington.
In a new Web video out Tuesday morning, the National Republican Senatorial Committee repeatedly flashes reports from a wide variety of cable news programs that report a rising unemployment rate, question the efficacy of the stimulus program, discuss the possibility of a double-dip recession, and show President Obama's sinking approval ratings.
The ad also takes digs at the president for embarking on a 10 day vacation in Martha's Vineyard and first lady Michelle Obama for visiting Spain on a lavish trip with her daughter earlier this year.
"So … How was YOUR summer?" the ad asks. "The Recovery Starts November 2nd."