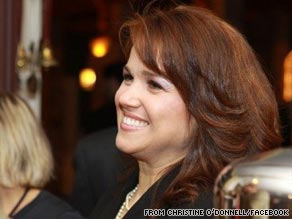 The Tea Party Express is planning a news conference Tuesday in Delaware in support of Christine O'Donnell's bid for the U.S. Senate.
(CNN) - With the momentum of Joe Miller's surprising win over Sen. Lisa Murkowski in the Alaska Republican Senate primary, the Tea Party movement is setting its sights on Delaware.
The Tea Party Express on Tuesday announced its support for Delaware Senate candidate Christine O'Donnell, outlining plans for an aggressive campaign effort in the days leading up to the Sept. 14 Republican primary.
The race pits O'Donnell against moderate U.S. Rep. Mike Castle, a two-term Delaware governor and a Congressman since 1993.
The group outlined plans to hold several events for the candidate over the next week, including a rally on the Delaware Capitol Mall Wednesday, and a radio-thon on WDEL that promises to have "big names" calling in to endorse O'Donnell.
The latest effort comes after the group released a series of TV and radio ads last week that support O'Donnell and rail against Castle as a liberal candidate who "just keeps supporting the failed policies of Nancy Pelosi and Harry Reid."
Updated 3:37 p.m.