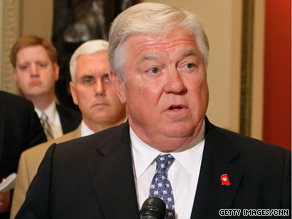 Gov. Haley Barbour said Republican candidates will be elected this November if they stay on message this fall.
Washington (CNN) – Mississippi Gov. Haley Barbour's message to Republican candidates this fall: stay on message.
"The intensity since last year is greater than it was in '94, but we're still eight weeks away from the election. Republicans need to understand they need keep their foot on the accelerator," Barbour told a group of journalists at a breakfast sponsored by the Christian Science Monitor Wednesday.
Barbour, who is widely considered a potential 2012 presidential candidate, said for now he is concentrating on his job as chair of the Republican Governors Association.
"I am not giving serious thought to a run until after November 2," Barbour said. "I'm giving all of my attention to electing Republican governors."
During the hour-long breakfast, Barbour took questions on range of topics, including a Florida pastor's controversial plan to burn the Quran on September 11.
"I don't think well of the idea of burning anyone's Quran, Bible, or Book of Mormon. I don't think it's a good idea."
Barbour also shot down suggestions that Republicans are actively spreading rumors that President Obama is a Muslim, insisting that there is no such conspiracy, and that he did not know why people believed otherwise.
A recent poll by Pew Forum on Religion and Public Life found that nearly one in five Americans falsely believe Obama is a Muslim, and that most of those who think Obama is Muslim are Republicans.
"This is a president that we know less about than any other in history. I don't know why people think what they do. I accept totally at face value that he's a Christian," Barbour said.
Nonetheless, Barbour said by focusing on Obama's religion, Republican's are "taking their eye off the ball." Candidates should instead be focusing on Republicans' message of fixing the economy, he said.
Republicans need to "stay on issues on people's minds – the economy, jobs, the failure of the stimulus package, concern about spending, the deficit, debt. Nothing is done until it's done," Barbour said repeatedly.
Barbour also weighed in on the success of Tea Party-backed candidates this election cycle, saying the intra-party competition is healthy.
"The worst thing for Republicans would have been for Tea Party candidates to run as independents," Barbour said. "I hope they continue to run as Republicans in the next election cycle.
Yet there is one Tea Party candidate about which Barbour seemed less enthusiastic.
When asked if he plans to support embattled Colorado GOP gubernatorial candidate Dan Maes, Barbour conceded that the RGA is reluctant to put money into races it considers un-winnable.
"We have put money in Colorado. Past tense," Barbour said, signaling that RGA support in the race may be dwindling.
Maes narrowly beat former U.S. Rep. Scott McInnis in the GOP primary last month despite several campaign controversies. He has faced calls by many prominent Republicans in his state to step down, but recently vowed to remain in the race.