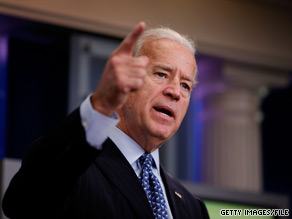 Vice President Joe Biden will fundraise for Joe Sestak in Pennsylvania on Monday.
Washington (CNN) - First President Barack Obama. Now Vice President Joe Biden.
CNN has learned that Vice President Biden is going to help raise campaign cash for Joe Sestak, the Democrats Senate nominee in Pennsylvania. This comes just five days after CNN reported that Obama would host a September 20 fundraiser to raise money for the two term representative.
The Sestak campaign tells CNN Wednesday that Biden will be the main attraction at a fundraiser for Sestak on September 13 in the Philadelphia area.
Last year the former admiral and congressman from southeast Pennsylvania challenged Republican turned Democrat Sen. Arlen Specter for their party's nomination. Obama and Biden both supported Specter. But Sestak survived a nasty intra-party battle and defeated Specter in the May 18 primary.
Top White House officials, including Chief of Staff Rahm Emanuel, also became involved in a huge controversy over whether they used former President Bill Clinton to dangle before Sestak an advisory job in the executive branch in exchange for him dropping out of the primary contest.
Sestak refused the offer while White House officials have denied that any laws or ethical regulations were breached, and Sestak's campaign staff now says it's time for Democrats to put everything behind them.
Sestak finds himself trailing former Rep. Pat Toomey, the Republican Senate nominee, in both campaign cash and in the polls. Toomey was leading Sestak by nine points and ten points in two recent surveys of Pennsylvania voters.
CNN Chief National Correspondent John King, walked along side Sestak in Monday's Labor Day parade in Pittsburgh. Sestak told King, anchor of John King USA, that he realizes he's down the polls but is confident he can win in November.
Toomey is teaming up with a high profile surrogate of his own on Thursday. Former Pennsylvania Gov. and Homeland Security Secretary Tom Ridge is scheudled to join Toomey at a press conference at State College to talk about fiscal responsibility.
–CNN Senior White House Correspondent Ed Henry contributed to this report
(Updated at 12:25 p.m. ET)