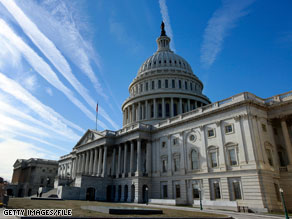 The CNN 100 takes a look at the top 100 House races, from now until Election Day.
Editor's Note: In the final 100 days before Election Day, CNN has been profiling one race at random each day from among the nation's top 100 House races, which we've dubbed "The CNN 100." Read the full list here. Today's featured district is:
Kentucky 6th – Rep. Ben Chandler (D) is seeking a 4th full term
Primary: May 18, 2010
Location: East-central Kentucky
Days until Election Day: 55
Despite representing a GOP-leaning district in the increasingly reliably Republican Bluegrass State, Democratic Rep. Ben Chandler has managed over seven years in Congress to strike the right balance between serving both his left-of-center party and right-of-center constituents. That balancing act will be put to the test in 2010.
Chandler first won his seat in 2004 in a special election to replace Republican Ernie Fletcher, who stepped down to serve one turbulent term as governor. Chandler won that race with a comfortable 55 percent of the vote, and won each of his three re-election bids with at least 59 percent and as much as 86 percent of the vote.
His success in congressional elections has no doubt been helped by his 12-year service in statewide elected office, first as auditor, then as attorney general. He also has the benefit of having a well-known Kentucky political name. Chandler's grandfather was Albert B. "Happy" Chandler, a former Kentucky governor and U.S. Senator who, as Major League Baseball commissioner in the 1940s and early 1950s, oversaw the integration of the league.
In Congress, Chandler is usually a reliable Democratic vote, having supported President Obama and his party on key votes at least 92 percent of the time last year. He supported the economic stimulus package and also voted in favor of the "cap and trade" energy plan, which may alienate some voters in this coal-producing state. However, Chandler has broken ranks on some high-profile issues. He voted against the Democratic health care reform and Wall Street reform plans.
His Republican opponent is Andy Barr, a 36-year-old attorney and former aide to Gov. Fletcher. He won the crowded GOP primary in May with a decisive 64 percent.
Barr has proven himself to be a competitive fundraiser. As of mid-year, he had raised $811,000 in contributions, just slightly behind the $888,000 Chandler had raised that same period. However, the incumbent has a significant cash advantage. Chandler had $1.7 million in the bank at the start of July, thanks in large part to the $1.1 million he had leftover from his 2008 campaign. Barr had $361,000 in the bank.
Kentucky's 6th district is located in the state's east-central region and includes both Lexington and the state capital of Frankfort. Although this was President Obama's second-best district in the state in 2008, McCain still carried it with 55 percent to 43 percent of the vote. Obama lost every county in the district except for Fayette County, home of heavily Democratic Lexington and the University of Kentucky. President Bush carried the district in twice, with 55 percent in 2000 and 58 percent in 2004.
Chandler is better off than most vulnerable Democrats in Republican districts this year, but he still faces a challenging re-election bid. He has shown independence by bucking the Democratic leadership on issues like health care but also must defend his support of "cap and trade." He had a 14-point lead over Barr in a Braun Research survey from late July but received less than 50 percent, with a sizable 21 percent of respondents still undecided. Chandler enters the final two months of the campaign with an advantage, but with Democrats nationwide facing an increasingly unfavorable political climate, the race could tighten up considerably.