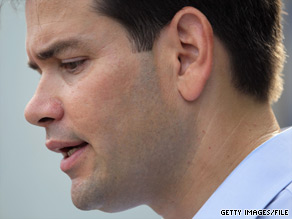 Florida Senate candidate Marco Rubio's campaign is more complicated than it used to be.
Miami, Florida (CNN) - For Marco Rubio, life was simpler when it was tea time all the time.
When he was gunning for the Republican nomination for the U.S. Senate in Florida, the former speaker of the Florida House of Representatives aggressively courted the state's conservative Tea Party activists. That strategy worked. Rubio was suddenly a Tea Party favorite. His stunning rise in the polls forced Florida's more moderate governor, Charlie Crist, to bolt the GOP primary to run as an independent.
But the race is now more complicated, with Rubio competing in a three-way battle royal against both Crist and the Democratic nominee, South Florida Rep. Kendrick Meek.