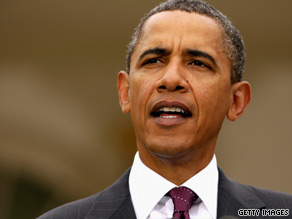 President Obama will unveil new economic proposals on Wednesday in Ohio.
Washington (CNN) –As President Obama heads to Cleveland, Ohio on Wednesday to roll out a set of comprehensive proposals aimed at fixing the ailing U.S. economy, top aides are knocking down suggestions that politics and the midterms are driving this effort.
"We are not calibrating these decisions based on a political calendar," said a senior administration who briefed reporters ahead of the president's speech. "We are trying to make decisions that are going to build a stronger economy for this country over the long run."
In Ohio - a state especially hard hit by a slumping economy - Obama will propose $200 billion in tax cuts for businesses to purchase new equipment, and write off 100 percent of their new investments through the end of 2011, according to another senior administration official. The White House said 1.5 million companies stand to take advantage of the incentives.