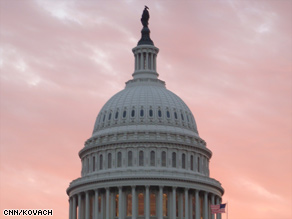 The CNN Washington Bureau's morning speed read of the top stories making news from around the country and the world.
WASHINGTON/POLITICAL
For the latest political news:  www.CNNPolitics.com
CNN: Democrats to the president: Get a clear message
From union activists to Democratic members of Congress, the message to the White House is clear: They want President Obama to present a clearer, more coherent message about his plans to turn around the economy.
CNN: Kaine, Plouffe kick off fall campaign for Democrats
Even as many pollsters predict sweeping gains for the Republican Party this November, Democratic National Committee Chairman Tim Kaine is striking an optimistic tone, saying the party's achievements over the last two years will resonate with voters.
Politico: Steny Hoyer confident Dems will hold House of Representatives
Amid a barrage of bad campaign news and polls, House Majority Leader Steny Hoyer (D-Md.) remained upbeat as he continues his recess appearances for vulnerable Democratic members.
Politics Daily: Low Democratic Turnout in Primaries Could Bode Well for GOP in General Election
Many polls have painted a rosy picture for Republican prospects in the November elections, and now the GOP's chances also appear to be boosted by new data from this year's primaries.
CNN: GOP to target more House Democrats
National Republicans are expanding the number of House Democrats they'll target with television commercials over the next eight weeks leading up to the midterm elections. A GOP source confirms to CNN that the National Republican Congressional Committee is going to expand its playing field by going up with ads in four more districts held by Democrats. That's in addition to the 41 Democratic seats already being targeted.
CNN: Millions of advertising dollars being poured into Las Vegas, Reno
No fewer than five special interest groups have run television commercials in Nevada since June in an effort to try and influence a small group of voters who will decide whether Senate Majority Leader Harry Reid wins a fifth term.
USA Today: Companies spend indirectly on politics
Some of the nation's largest publicly traded companies said they will not channel corporate funds directly into political advertising that targets candidates, even though it is legal for them to do so.
CNN: Rahm: Will he or won't he?
The news that Chicago Mayor Richard Daley will not seek another term sent blackberries buzzing with the question: Will White House Chief of Staff Rahm Emanuel turn in his hard pass to run for Daley's seat?
Washington Post: With Richard Daley's retirement, Rahm Emanuel could run for Chicago mayor
White House Chief of Staff Rahm Emanuel has made no secret of his desire to run for mayor of Chicago one day, saying as recently as April that becoming chief executive of his home town had "always been an aspiration."
CNN: Survivors of foodborne illness to demand action on bill
After the recall of more than 500 million eggs from a salmonella outbreak this summer, food safety advocates and survivors of foodborne illness will call for the U.S. Senate to pass a bill that has been in limbo since last year.
St. Paul Star Tribune: Pawlenty to feds: We'll take the cash
Gov. Tim Pawlenty on Tuesday asked the Obama administration for $230 million in additional federal money for Medicaid, even though it is part of a state-aid economic stimulus law that the Republican governor has criticized as a "reckless spending spree."
CNN: Murkowski 'reconsidering her options'
Republican Sen. Lisa Murkowski is "reconsidering her options" in a reelection campaign once pronounced all but dead, and is now exploring a third party or write-in bid after receiving an "an outpouring of support" from Alaskans.
New Orleans Times Picayune: David Vitter, Kevin Davis endorsed by Alliance for Good Government
Republican U.S. Sen. David Vitter defended his record of reaching across the political aisle Tuesday as four of the candidates challenging him in the U.S. Senate race said his partisan stances have made him an ineffective leader for the state.
U.S. News & World Report: Redistricting Heightens the National Political Stakes for State Races
Every 10 years, the hierarchy of national politics is turned on its head. It's a time when governors and state legislators take control of jobs on Capitol Hill, and when politicians have the ability to choose their voters, rather than the other way around. It's a period of heightened political stakes, when election results affect not just the current election cycle but, potentially, elections over the coming decade. The time for redistricting is near.
The Hill: Reid: Next climate bill should be 'piecemeal'
Senate Majority Leader Harry Reid (D-Nev.) said Tuesday that attempts to tackle climate legislation in the next Congress should start with a "piecemeal" approach focused on electric power plants rather than a more sweeping proposal.
NATIONAL
For the latest national news:  www.CNN.com
CNN: Imam: We are proceeding with NYC Islamic center
The imam at the center of an ugly controversy over an Islamic center near New York's ground zero broke his silence Tuesday, just hours after a broad coalition of Christian, Jewish and Islamic leaders denounced what they described as a rising tide of anti-Muslim bigotry across the United States.
CNN: Pastor weighing plans to burn Qurans amid U.S. warnings
A Florida pastor told CNN on Tuesday that while his congregation still plans to burn Qurans to protest the September 11, 2001 terrorist attacks, the church is "weighing" its intentions.
CNN: Judge: No delay in ruling blocking stem-cell research funding
A federal judge Tuesday rejected the Obama administration's request to stay his recently imposed injunction against use of public funds in embryonic stem-cell research. District Court Judge Royce Lamberth said he could not agree to delay his injunction while the case is appealed.
Wall Street Journal: Health Insurers Plan Hikes
Health insurers say they plan to raise premiums for some Americans as a direct result of the health overhaul in coming weeks, complicating Democrats' efforts to trumpet their signature achievement before the midterm elections.
CNN: BP to release investigation into oil rig disaster
BP is on Wednesday expected to release findings of an internal investigation into the Gulf oil disaster, the oil giant said. The report comes nearly five months after an April 20 explosion aboard an oil rig left 11 men dead and spewed millions of barrels of oil into the Gulf of Mexico over an 87-day period.
CNN: Colorado canyon fire not safe, governor warns
Colorado Gov. Bill Ritter declared a state of emergency Tuesday as firefighters battled a 7,100-acre blaze near Boulder that threatened hundreds of homes and forced thousands to evacuate.
CNN: Fires burn across Detroit as high winds knock down power lines
Firefighters in Detroit, Michigan, grappled with 85 fires in a four-hour period Tuesday night, officials said."A lot of these fires were due to high winds and downed wires," said Karen Dumas, a city spokeswoman. There were no reports of deaths or injuries, she said.
CNN: FBI: Gunman at Army post accused of threatening to kill Obama
A former soldier arrested after a hostage incident at a military base in Georgia faces multiple charges that include threatening to kill President Barack Obama and former President Bill Clinton, according to federal court documents filed Tuesday.
CNN: Crowds protest officer-involved shooting in Los Angeles
Tensions flared for the second night as crowds protested in the streets of Los Angeles on Tuesday. Hundreds upset about an officer-involved shooting amassed near downtown, authorities said. Police were monitoring the situation and shot nonlethal foam rounds at the ground to try and restore order, said spokeswoman Sara Faden of the Los Angeles police.
INTERNATIONAL
For the latest international news:  http://edition.cnn.com
CNN: Iraqi soldier kills 2 U.S. soldiers
An Iraqi soldier opened fire Tuesday on a group of U.S. soldiers in northern Iraq, killing two and wounding nine others, the U.S. military and the Iraqi military said.
CNN: Officials: Pakistani police targeted in deadly attacks
Pakistani police were targeted in two separate attacks Tuesday in the country's northwestern province of Khyber Pakhtunkhwa, officials said, leaving 20 dead and as many as 98 wounded.
CNN: 18 dead in shoe factory shooting in Honduras
Eighteen people died and several others were wounded Tuesday in a shooting at a shoe factory in San Pedro Sula in northern Honduras, police said.
CNN: U.N. puts Congo sex attacks at more than 500
U.N. officials on Tuesday put the number of rapes and other sexual attacks in eastern Congo since late July at more than 500, more than double the previous estimate.
New York Times: Chinese Officials Call for Less Friction With U.S.
Top Chinese officials called Tuesday for quiet discussions instead of open friction with the United States, after a summer marked by bilateral disagreements over the value of China's currency, American military exercises off the Korean Peninsula and American efforts to resolve territorial disputes in the South China Sea.
BUSINESS
For the latest business news:  www.CNNMoney.com
USA Today: 'Flash crash' may be sparking stock fund withdrawals
Retail investors have yanked money out of stock mutual funds for 17 straight weeks. And the still unexplained May 6 "flash crash" — when the Dow Jones industrials plunged more than 600 points in minutes before recovering — is increasingly being cited as a key reason the public has been selling.
Reuters: Dollar to Maintain Its Dominance: China Minister
The dollar will remain the world's dominant currency for a long time, and the yuan will only gradually emerge as an alternative, Chinese Commerce Minister Chen Deming said on Wednesday.
In Case You Missed It
The Obama administration was caught off guard by Peter Orszag's support of keeping Bush tax cut for the wealthy.
http://www.cnn.com/video/#/video/us/2010/09/07/tsr.lothian.orszag.backs.tax.cut.cnn
CNN's Senior Congressional Correspondent Dana Bash takes a look at Ohio's 16th district – home to an imperiled Democrat.
http://www.cnn.com/video/#/video/politics/2010/09/07/bash.boccieri.ohio.16th.district.cnn
Subscribe to the CNN=Politics DAILY podcast at http://www.cnn.com/politicalpodcast
And now stay posted on the latest from the campaign trail by downloading the CNN=Politics SCREENSAVER at http://www.CNN.com/situationroom