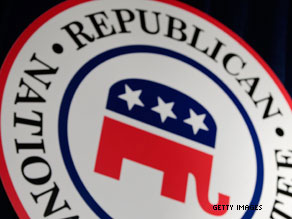 The RNC released a video highlighting Democratic candidates who are distancing themselves from President Obama in campaign ads.
Washington (CNN) - A new Republican Party video highlights Democratic lawmakers facing tough re-elections this year who are distancing themselves from the White House.
The video, which went up Wednesday on the Republican National Committee's website, GOP.com, and on YouTube, starts with a video clip of President Barack Obama saying "if I said the sky is blue, they'd say no."
In the comments, the president was referring to Republicans who outright oppose his policies, but with the words "That's right. They do" and the donkey symbol that represents the Democratic Party, the video suggests that some Democrats also oppose the president.
The video then includes clips of campaign commercials from Rep. Walter Minnick of Idaho, Rep. Stephanie Herseth-Sandlin of South Dakota, Rep. Frank Kratovil of Maryland, Rep. Jason Altmire of Pennsylvania, Rep. Bobby Bright of Alabama, and Rep. Joe Donnelly of Indiana. In each clip, the Democratic lawmakers highlight their opposition to Obama administration policies, such as bailouts of Wall Street, some major banks, and the big auto companies, health care reform, the federal stimulus, the budget, and energy legislation.
The video ends by asking: "With policies this bad, who can blame them?"
All five Democrats represent moderate to conservative districts and all face challenging re-elections in November's midterm elections.
"We've always been a big tent. That's one of the strengths of our party. It can create some challenges at times, but overall we don't want to be the party that throws folks over the side because they run an ad they don't like or cast a vote that we don't like," Democratic National Committee Chairman Tim Kaine told CNN's Wolf Blitzer Tuesday on the Situation Room.
But Kaine did concede that he might not be as helpful to candidates that weren't towing the party line.
"You won't be surprised, Wolf, to know that I tend to be a little more helpful to those who are energetically and enthusiastically telling about the good things their party has done," added Kaine.