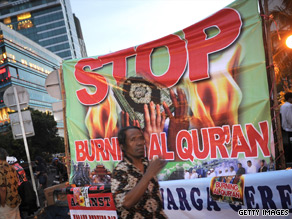 Indonesian Muslims protest in Jakarta on Wednesday about a planned Quran burning event in Florida, U.S. on September 11.
(CNN) - President Barack Obama on Thursday said a Florida church's plans to burn dozens of Qurans this weekend would be a "recruitment bonanza" for al Qaeda.
"You could have serious violence in places like Pakistan or Afghanistan," Obama told ABC's "Good Morning America."
"This could increase the recruitment of individuals who'd be willing to blow themselves up in American cities or European cities."
Obama said he hoped the pastor, Terry Jones, understands that the planned burning is a "destructive act" that may have a dangerous fallout.

Full story