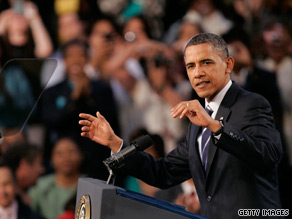 President Obama transferred $4.5 million from his 2008 presidential campaign coffers to three Democratic party committees.
Washington (CNN) - President Barack Obama is making another major investment in his own party.'
The president ordered $4.5 million from the old Obama for America campaign account to be transferred to the Democratic Party, a top party official confirmed to CNN. The funds will be evenly divided among the Democratic National Committee, the Democratic Senatorial Campaign Committee, and the Democratic Congressional Campaign Committee.
The money originally was set aside to cover legal expenses involved in shutting down Obama's 2008 presidential campaign.
Earlier this election cycle, $8 million was transferred from Obama for America to the DSCC and the DCCC. And the president is also assisting his party through the DNC's $50 million Vote 2010 campaign plan.
Democrats hope that a large infusion of campaign cash to assist candidates and pump up get-out-the-vote efforts will help soften what could be serious losses in the House and Senate and in the states in November's midterm elections.
Word of the transfer of the $4.5 million was first reported by Politico.
–Follow Paul Steinhauser on Twitter: @psteinhausercnn