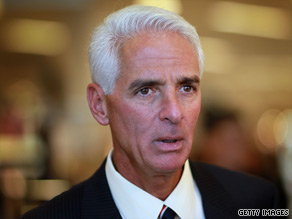 Florida Senate candidate Charlie Crist launched two new statewide television ads Monday.
Bradenton, Florida (CNN) - Hoping to capitalize on voter discontent with both political parties, Charlie Crist launched two new statewide television ads Monday casting himself as an independent voice who will take "the best ideas" from both parties.
But one of the new ads is a clear appeal to Democrats, a slice of the electorate Crist must tap into if he has any hopes of capturing a U.S. Senate seat in November.
The ad, "Cross the Line," shows Crist walking along the Florida shoreline and touting his veto against a teacher merit pay bill earlier this year, his support for stem cell research and his acceptance of federal stimulus money - all positions that have won him praise from Democrats and scorn from Republicans.
For Crist to win in November, he must win something close to a majority of independent voters while also peeling off substantial portions of Democratic votes from Rep. Kendrick Meek and GOP votes from former House Speaker Marco Rubio.
Crist is currently polling higher among Democrats than Republicans, who have largely coalesced around Rubio. Keen to the trend, the Crist campaign on Monday released a position paper outlining the candidate's support for a variety of issues dear to the LGBT community - a move the Meek campaign called "too little, too late."
The other Crist ad, "Line in the Sand," also depicts the Florida governor and independent Senate candidate walking the beach - a familiar image to viewers who frequently saw the governor on the shores of the Gulf of Mexico earlier this summer during the height of BP oil spill crisis.
"Instead of coming together to fix the economy, the party bosses in Washington draw a line in the sand," Crist says in the commercial, dragging a stick through the sand. "The party bosses in Washington refuse to compromise, we get nothing."
Crist makes an appeal along those lines in the, promising to take "the best ideas" from each party. He offers support for clean energy jobs, a Democratic priority, and promises to cut government spending, a hot Republican topic.
Rubio campaign spokesman Alex Burgos accused Crist of saying whatever it takes to get elected, and said his political beliefs are "as firm as a sand castle hit by a wave."