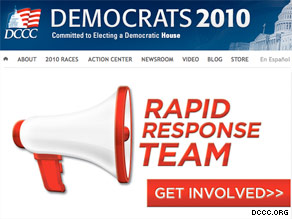 The DCCC launched a new web site Monday aimed at mobilizing Democratic voters.
Washington (CNN) – With just 50 days left before the November 2 midterm elections, the Democratic Congressional Campaign Committee launched a new web site Monday aimed at mobilizing supporters to get out the vote.
"DEMOCRATS 2010," part of DCCC.org, "hammers home the critical choice voters face race-by-race across the country," the DCCC said in a statement.
The interactive site serves as an information portal that provides details on all Democratic candidates by state, and seeks to highlight why they are a better choice than their Republican opponent. Visitors to the site can also sign up to volunteer in their districts, donate money to the DCCC, and register to vote.
The latest push is part of a fall campaign aimed at helping Democrats maintain their majority in Congress by tapping into a vast grassroots network of supporters across the country who can help "share the choice in this election with their neighbors, Facebook friends, and Twitter followers," the DCCC said.
In August, the Democratic National Committee and the DCCC kicked off the fall campaign season with a "National Day of Action," a grassroots canvassing effort which spanned 75 districts, according to the DCCC.