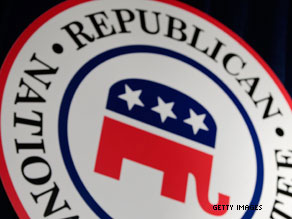 Washington (CNN) – Republican National Committee Chairman Michael Steele kicks off the fall campaign Wednesday with a 117-city bus tour aimed at rallying GOP voters and helping wrest control of the House majority from Democratic hands.
The "Fire Pelosi Bus" tour, named after House Speaker Nancy Pelosi, is scheduled to travel to all 48 contiguous states and wrap up right before Election Day in Maryland. The first stops will be in Virginia.
Donning a red "Fire Pelosi" hat last month, Steele unveiled the bus tour at the RNC's summer meeting in Kansas City.
"We are going to be living on that bus, sleeping on that bus, eating on that bus and bringing that bus to your community," Steele said to a standing ovation of RNC members. "We're bringing it to your community. We want your candidates on the bus. We want party leaders on the bus. We're taking it to the streets. We are taking our message back to America we are the people's party. We are the people's party. Get on the bus."
Steele has been criticized for his stewardship of the committee, but the GOP has scored some big wins during his tenure as chairman, including winning races for governor in New Jersey and Virginia and the late Sen. Edward Kennedy's seat in Massachusetts.