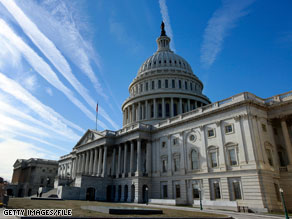 The CNN 100 takes a look at the top 100 House races, from now until Election Day.
Editor's Note: In the final 100 days before Election Day, CNN has been profiling one race at random each day from among the nation's top 100 House races, which we've dubbed "The CNN 100." Read the full list here. Today's featured district is:
Pennsylvania 4th: Rep. Jason Altmire (D) is seeking a 3rd term
Primary: May 18, 2010
Location: Suburban Pittsburgh and steel country.
Days until the election: 48
(CNN) - Rep. Jason Altmire hopes that standing up to some of his party's leaders will be the road to success and a third term in the House. While not considered a toss-up, the race in Pennsylvania's fourth district is a contest both parties are watching closely, and it is a district that could swing back into the GOP column.
John McCain took the fourth congressional district in 2008 with 54 percent of the vote, and it is now rated a Republican area. George W. Bush captured it both times he ran with 54 percent in 2004 and 52 percent of vote in 2000 although it previously had a more Democratic history pegged to the steel mills that dominated the area.
Altmire, a Catholic who is anti-abortion, beat three-term Republican Melissa Hart in 2006 to win the seat and defeated her with 56 percent of the vote in 2008 when she tried to take it back.
He is running on a centrist message this year. Despite intense lobbying, he did not support his party's key priorities: the health care overhaul or the cap and trade climate bill. The campaign touted those "no" votes in his first general election ad.
"Too many people in Congress just tote the party line. Jason Altmire isn't like that. No doubt about it. You saw he voted against health care. Jason opposed the Wall Street bailout. I think Jason is not afraid to stand up to the President. And Nancy Pelosi. He fights for folks here," says the ad.
The Western Pennsylvania district is diverse and includes some of the more affluent suburbs to the east of Pittsburgh and then runs north to some of the old industrial and steel areas. There Unemployment is a top concern in much of that area, including the towns of Aliquippa, New Castle and Beaver Falls.
Altmire's opponent is Keith Rothfus, a cancer survivor and a lawyer who previously worked for the Department of Homeland Security where he set up an office to deal with faith-based organizations providing relief in the wake of Hurricane Katrina. Rothfus, who has worked to build support among the area's tea party activists, captured the primary in an upset. If he is elected, he would repeal the health care overhaul, cut corporate and capital gains tax rates, keep in place all of the Bush Administration's tax cuts and says he would provide the district a more conservative voice than the incumbent.
"You have to scrutinize his record. Number one he is a big spender. He consistently votes for big spending. He voted for the $800 billion stimulus. He voted for 2 consecutive $1.5 trillion deficits," Rothfus said of his opponent. He argues his conservative credentials and non-political background will help him win support.
Nonpartisan analyst Charlie Cook expects the seat to remain in the Democratic column, and internal polls show Altmire with a double digit lead. He has a large cash advantage over Rothfus: As of June 30th Altmire had $1.5 million on hand vs. $202,000 for Rothfus.
However, in this economically hard-hit state, both parties recognize that unemployment remains a key factor in determining the outcome of the election. Both candidates say they hear most from voters about the economy, spending and the deficit. While unemployment in the state and district are just below the national average, it is still a major concern with Armstrong Industries announcing it was closing a 107-year-old ceiling tile plant in Beaver Falls costing about 150 jobs.