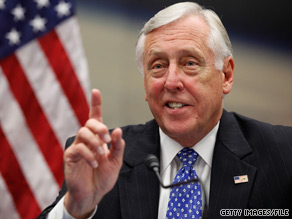 House Majority Leader Steny Hoyer spoke ou Wednesday on tax cuts.
Washington (CNN) - House Majority Leader Steny Hoyer left open the possibility Wednesday that Democrats could consider proposals to extend tax cuts to upper income taxpayers.
"I'm always, as you know, prepared to discuss alternatives so we can move forward," Hoyer said at his weekly session with reporters on Capitol Hill.
But Hoyer repeatedly argued for President Obama's proposal – legislation that would just extend tax cuts for those making $250,000 a year and under.
"I've made my position very clear, Hoyer said, adding, "The President's position is the position that I think makes sense for working people, for our economy, and for long term concerns we have about the deficit."
Careful not to criticize those moderate Democrats who are still pushing for a short term extension of all the expiring tax cuts, Hoyer said members should make up their own minds about how to vote on the tax extensions. "Every member needs to take their own position on this issue as to what they think is appropriate."
The Maryland Democrat stressed that leaders have not made a decision whether they will move forward on a vote before the midterm elections, noting that they are waiting to see what the Senate decides to do.
But Hoyer did take the opportunity to point out that House Republican Leader John Boehner said over the weekend that he could support a compromise focused on just the middle income tax breaks, if it were the only option. Hoyer referred to Boehner's comments on a Sunday talk show, as "a few short seconds of reasonableness."
–Follow Deirdre Walsh on Twitter: @deirdrewalshcnn