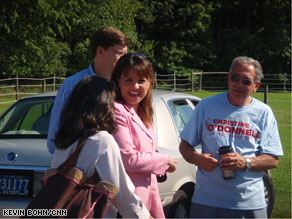 Sarah Palin has yet to connect with Christine O'Donnell.
(CNN) - Sarah Palin, whose endorsement helped rocket Christine O'Donnell to victory, has yet to connect with the surprise winner in the Delaware primary, her campaign tells CNN.
Palin tried to call O'Donnell Wednesday by was only able to speak with the campaign manager, an O'Donnell spokesman tells CNN.
O'Donnell said on American Morning she has not heard from any GOP establishment leaders but did receive calls from Sen. Jim DeMint, R-South Carolina, and Rep. Michele Bachmann, R-Minnesota.