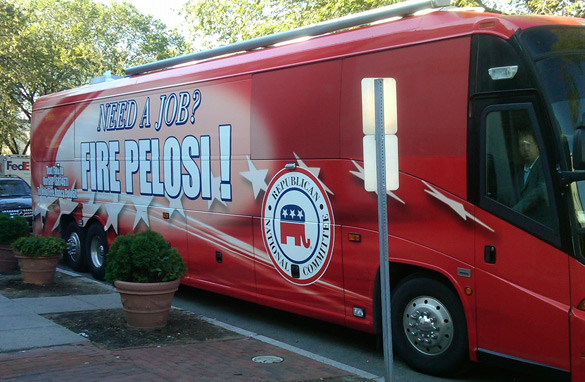 The Fire Pelosi bus tour is launching Tuesday. (PHOTO CREDIT: Rachel Streitfeld/CNN)
Washington (CNN) - As Republicans prepared to depart Wednesday from the nation's capital on a 48-state "Fire Pelosi" bus tour, a spokesman for the House speaker accused the GOP of failing to offer sound solutions to fix the ailing economy.
"Republicans can ride around the country, but they can't run away from their record of privatizing social security, shipping American jobs overseas and busting the budget to give tax cuts for millionaires and billionaires," said Nadeam Elshami, spokesman for House Speaker Nancy Pelosi, D-California.
Republican National Committee Chairman Michael Steele was heading to Virginia this morning on the first leg of this seven week tour.