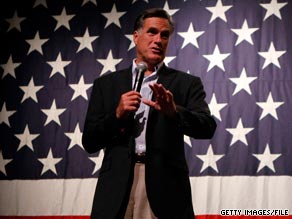 Mitt Romney's Free and Strong America PAC endorsed Delaware Senate GOP primary winner Christine O'Donnell Wednesday.
(CNN) - Former Massachusetts Gov. Mitt Romney's rallying around Delaware GOP Senate nominee Christine O'Donnell.
The past and possible future Republican White House hopeful Wednesday endorsed O'Donnell, a conservative commentator who upset moderate Republican Rep. Mike Castle in Tuesday's primary.
Romney's Free and Strong America PAC endorsed O'Donnell and is sending her a campaign maximum $5,000 contribution.
"Now is the time for Republicans to rally behind their nominee, Christine O'Donnell. She ran an impressive campaign. I believe it is important we support her so we can win back the U.S. Senate this fall," said Romney in a statement.
Romney's political action committee has endorsed or donated money to fellow Republicans running for office this year in around 40 states, and the PAC has contributed over $650,000 to candidates and party committees this cycle.
The 2008 White House hopeful is also on a 25-state, ten-week tour on behalf of fellow Republicans running in this November's midterm elections.
If nothing else, the endorsements, contributions, and traveling 25 states to campaign with GOP candidates are making Romney very visible in the months leading up to the unofficial kickoff of the next presidential run.
O'Donnell was helped by another possible contender for the 2012 GOP presidential nomination. Former Alaska Gov. and 2008 GOP vice presidential nominee Sarah Palin endorsed O'Donnell on September 9. On Monday, a recording of Palin urging Delaware Republicans to vote for O'Donnell was blasted to voters by robocalls across the state.
Follow Paul Steinhauser on Twitter: @psteinhausercnn