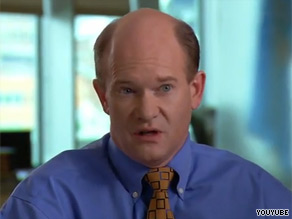 Delaware appears to be an advantage for Democrats now.
Washington (CNN) - The two top non-partisan political handicappers are changing their rating of Delaware Senate battle.
Just a few hours after Christine O'Donnell's upset victory over nine-term Rep. Mike Castle, the Rothenberg Political Report moved the race from "Lean Republican" to "Lean Democrat." Wednesday morning, the Cook Political Report changed their rating, from "Likely Republican" to "Likely Democrat."
"Castle had broad appeal, including to independents and even Democratic voters, while O'Donnell's appeal is limited to tea party conservatives. Lacking an impressive resume and unlikely to garner significant national Republican support, O'Donnell clearly looks like an underdog against New Castle County Executive Chris Coons (D), who is suddenly transformed to the favorite in the general election," said the Rothenberg Report. "While tea party activists are jumping for joy at the primary results, it's Democrats who will have the last laugh in Delaware."
The winner of November's general election will fill out the remaining four years of Vice President Joe Biden's final term. Biden stepped down from the Senate after his election in November 2008 as vice president. Former Biden aide Ted Kaufman was named as an interim replacement. Kaufman is not seeking a full term. After much speculation that he would run for his father's old seat, Delaware Attorney General Beau Biden announced in late January that he would instead run for re-election as Delaware attorney general.
Nine days after the younger Biden's announcement, Coons officially announced his candidacy for the Democratic nomination. He didn't face a challenger for his party's nomination.
Follow Paul Steinhauser on Twitter: @psteinhausercnn