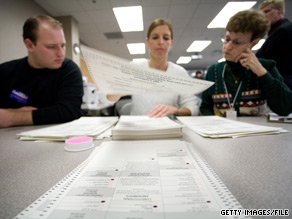 Florida Gov. Charlie Crist's name will appear in the ninth position out of 10 Senate candidates on the ballot in November.
(CNN) - There's no doubt Gov. Charlie Crist has high name recognition in Florida, but voters there may still may have a problem finding his name on the ballot come November.
That's because Crist, running as an independent candidate for Senate, will appear in the ninth position out of 10 candidates on the ballot, appearing between other party-less hopefuls Rick Tyler and Lewis Jerome Armstrong, according to the Florida Secretary of State's office.
That's because Florida law mandates the two major parties appear first followed by minor-party candidates. Candidates, like Crist, who are not running under the banner of any particular party, appear last. Of the candidates without a party, the order is determined by when the candidate filed. Crist was running as a Republican until late last spring and so was among the last candidates to file as an independent.
"It's an issue, obviously," Crist told reporters Wednesday.
Of course, the state has a rocky history with ballots – most recently in 2000 when a confusing set up appeared to cause thousands of Floridians to accidentally cast their vote for libertarian candidate Pat Buchanan instead of Democrat Al Gore.
Earlier this year Crist dropped his bid for the GOP Senate nomination. Crist – who is used to appearing on top of the ballots – said the new configuration means his campaign has the burden of educating voters where they can find his name.
"We're just going to have to have an education process to make sure people know it's not the normal course of affairs," he said.
A Reuters-Ipsos poll out Thursday showed indicates Crist 14 points behind Republican Marco Rubio among likely voters, 40-26 percent. Democrat Kendrick Meek is at 21 percent.