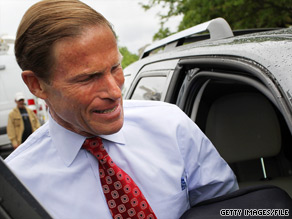 President Obama will head to Connecticut Thursday to campaign for Senate candidate Richard Blumenthal.
Washington (CNN) - President Barack Obama's heading to Connecticut Thursday late afternoon to help keep a Senate seat in Democratic hands.
The president is scheduled to headline an event for state Attorney General Richard Blumenthal, the party's Senate nominee. A Democratic source tells CNN that more than 300 people are expected to attend the fundraiser, with tickets priced at $1,000 each.
Later, Obama is expected to be the main attraction at a Democratic National Committee fundraiser being held at a private residence. A separate source with knowledge of the event says the dinner is expected to bring in a little over $1 million.
Blumenthal will face off in November's midterm elections against Republican nominee Linda McMahon. The former pro-wrestling executive has pumped millions of dollars into her bid for the Senate. A Quinnipiac University poll of likely Connecticut voters released earlier this week indicates that McMahon has narrowed Blumenthal's advantage to six points.
The winner will succeed Democratic Sen. Chris Dodd, who announced earlier this year that he would not run for a sixth term in the Senate.
–Follow Paul Steinhauser on Twitter: @psteinhausercnn