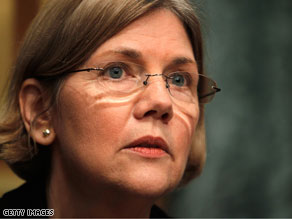 President Obama will announce on Friday that he is creating an advisory role for Elizabeth Warren.
Washington (CNN) – Is President Obama delaying an inevitable confrontation with his progressive base over Elizabeth Warren?
Progressive activists welcomed news that the president is creating a role for Warren that will allow her to set up the new Consumer Financial Protection Agency from inside the Treasury Department. A number of groups, including Moveon.org and the Progressive Change Campaign Committee organized campaigns pressuring the White House to name the outspoken consumer advocate director of the new agency. Once news broke that the president was naming her to this new role, they released statements praising Warren's appointment provided - as the PCCC statement says - she is "given full power to run the new consumer protection bureau".
And there's the problem.
In conversations with leading progressive activists it's clear many of them assume in this new role Warren will lead the agency. These activists won't speak for attribution for fear of antagonizing the White House right before the Warren announcement. Privately they tell CNN they see this appointment as the administration's clever way to avoid a drawn out confirmation battle. In other words, they believe she is getting the top job in fact just not in title. One key activist tells CNN, if she doesn't lead the new agency progressives "will be pissed."
It seems that day is coming.
A White House official says they expect Warren's role at Treasury to last for months not years. The official explains once the agency is open for business Warren can't lead it from the post they've created for her at Treasury. The official insists she will play "a pivotal role" in determining who the president nominates for that top job. Reading between the lines, don't expect the White House to nominate her.
Apparently, the White House is kicking that can down the road.
There's also pressure from the Senate. Democratic Banking Committee chair Chris Dodd is pressing for the White House to nominate a director quickly. A Democratic aide says Dodd would like to see this happen in the next few weeks so it's clear the president isn't trying to backdoor Warren into the job. The White House says it will take months to nominate a director.
Sound messy? The White House official insists this is the best way to ensure Warren "plays a central role" at a "pivotal time for the new agency." The source adds, "The alternative is going through many months if not more than a year long battle which the president is happy to have. But that would put her on the sidelines and silence her" for the duration of the fight.
This source says in the new role Warren will lead the effort to organize the new agency, including recruiting staff and overseeing policy initiatives.