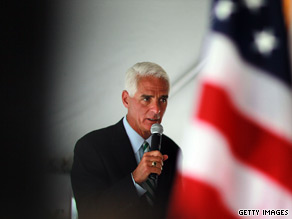 Will Florida Democrats vote for Republican-turned-independent Gov. Charlie Crist for Senate?
(CNN) - On a recent muggy evening in Miami Beach, members of the Miami-Dade County Democratic Party gathered in a drab room at the city's Botanical Gardens to phone bank for Rep. Kendrick Meek, their party's nominee for United State Senate.
A young organizer for the Meek campaign clutched a microphone and offered guidance to the activists, who sat around tables perusing call scripts and nibbling on store-bought cupcakes.
"How many of you are familiar who's on the Democratic ballot?," he asked, somewhat nervously. Of the roughly fifty people in the room, just four raised their hands.
The moment encapsulated a broader problem for Meek and his party in the unprecedented three-way race for Senate in Florida.
Democrats this year lack the kind of grassroots energy that drove huge turnout in 2008 when Barack Obama ran for president, an enthusiasm gap on display in the state's August 24 primary, when 1.25 million Republicans cast ballots in their gubernatorial primary compared with 900,000 Democrats who voted in their Senate primary.
But some in the party also fret about Meek's chances against two well-known and well-funded opponents, Republican Marco Rubio and Gov. Charlie Crist, who quit the GOP in April to run without party affiliation after he stumbled badly against Rubio in their high-profile primary battle.
"I think your average Democratic voter is making a decision between Crist and Meek on the issues as well as the question of electability," said Pinellas County Democratic Executive Committee chairman Ramsay McLauchlan.
Unlike Crist, a telegenic sitting governor and former attorney general who first ran for statewide office in 1986, Meek entered the race last year without much of a profile beyond of his Miami-area congressional district.
A CNN/Time Magazine survey of registered voters in Florida released last week found Rubio leading with 36 percent followed by Crist at 34 percent. Meek trailed at 24 percent.
Until those poll numbers creep out of the 20s, some Democrats say they're considering what may have once been unthinkable – voting for Crist, a man who once campaigned as "a Jeb Bush Republican" and angled to be John McCain's running mate in 2008.
"I am a little bit torn between Gov. Crist and Kendrick Meek, because I really fear Rubio," said Laurie Schrage, a philosophy professor who attended the phone bank in Miami Beach. "I think Meek is a great candidate but I am watching his numbers, because if it looks like a vote for Meek will be a vote for Rubio then I wouldn't vote for him."
Schrage is not alone in her thinking, said Florida Democratic pollster Tom Eldon.
"This is an election where people are going to be looking at polls to see who can win and who can lose," Eldon told CNN. "This might be one election where polls drive voting behavior, as opposed to polls describing voting behavior."
Among Democrats surveyed in the CNN poll, 54 percent favored Meek while 36 percent backed Crist, whose narrow path to victory requires winning a majority of independents, roughly a quarter of Republicans and some 40 percent or more of Democrats.
The Crist campaign has undertaken an aggressive effort to poach those Democrats sitting on the fence.
This week, Crist launched a statewide television ad touting his support for stem cell research, his veto earlier this year of a controversial merit pay bill opposed by teachers unions and his acceptance of federal stimulus money.
On Monday, the governor released a position paper detailing his support for a number of issues favored by the gay and lesbian community – a shift in policy shift that drew swift mockery from both Meek and Rubio.
Hoping to sideline Meek and create the impression of a two-way race between Crist and Rubio, the Crist team has also rolled out endorsements from Democratic leaders like Al Lawson, the top Democrat in the state Senate, and state Rep. Yolly Roberson, who represents part of Meek's north Miami district.
As he speaks to Democrats along the campaign trail, Meek forcefully pushes back against the Crist narrative. He grins while describing both Crist and Rubio as "lifelong conservatives" and reminds voters of his success in the Democratic primary against billionaire real estate mogul Jeff Greene, whom he beat by 26 points.
In an interview, Meek expressed confidence that he can put together a winning coalition.
"Marco Rubio can't stand up and say that he is going to get every Republican vote," he said. "I can't say, hey, I'm going to get every last Democratic vote that walks into the ballot box. That's not going to happen. But what will happen is that I will get the supermajority of those votes, I will get enough independent votes and enough Republican votes to win the election on Nov. 2."
Meek received a lively welcome from the phone bankers in Miami Beach, a mixture of African-Americans, union workers and local party activists that make up the Democratic base he so desperately needs to rally.
They were exactly the kind of voters who helped Obama win the state in 2008. But as was obvious listening to Meek, they needed some re-assurance that their vote in the Senate race would not be a wasted one.
"We've been working together for a long time," Meek told them, explaining his support for signature Democratic issues like health care reform, equal pay, worker rights and school funding. "As long as we stick together as a family, the people of goodwill will win."