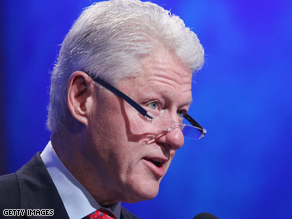 Former President Bill Clinton has some advice for President Obama.
(CNN) – Former President Bill Clinton, himself no stranger to a difficult midterm election environment, has some advice for President Obama:
Make a better case to voters about what he's done in the last two years.
"I'd like to see the president go around the country and explain it just like I did, say we've stopped digging," said Clinton on The Daily Show with Jon Stewart Thursday.
"And then talk about what we need to do now," continued Clinton, whose party suffered massive defeats in the 1994 midterm elections. "How we are gonna get out of this. How America's best are days ahead. How are we going to reduce the role of government in the economy and have a private sector that works again."
The former president, who said today's economic conditions are like those of 1994 but "on steroids," also proposed three initiatives the president should pursue:
"So these are the three things you need to do," he said. "Focus on where the jobs are – small business, manufacturing, and clean energy - figure out how to loosen the money and banks and corporations, and train people to do the jobs that already opening. The cheapest and quickest thing to do is the last.
"Have you said this to him?" Stewart said to laughter, adding later, "I don't know if that was a Jedi mind trick, but I believe you."