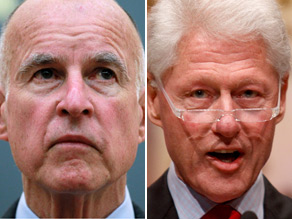 Bill Clinton will now campaign with Brown.
(CNN) - It appears Bill Clinton is letting bygones be bygones.
As our friends at Time.com first reported, the former president will appear with California gubernatorial candidate Jerry Brown in mid October. Brown's campaign has also announced the upcoming visit.
This comes a week after Brown misfired with a joke about Clinton's involvement with then-White House intern Monica Lewinsky.
San Francisco Mayor Gavin Newsom will also be on the stump with Clinton and Brown.