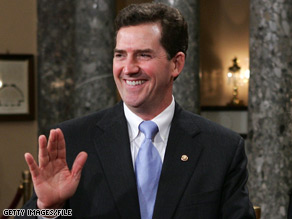 Jim DeMint is hoping to raise more than $350k for O'Donnell.
(Updated with response with the NRSC)
Washington (CNN) – Just 48 hours after Christine O'Donnell won the Republican nomination for Senate in Delaware, Sen. Jim DeMint says his political action committee has already reached his goal of raising $174,000 for her campaign.
And in a statement, DeMint took a shot at his Republican leadership for leaving a "fundraising gap" for the candidate because they do not think she can win in November.
"This specific goal was set because national Republicans have decided not to invest the $174,000, which is the legal limit for 'coordinated' funds the party can spend on O'Donnell's behalf," read the statement.
"Despite what some Beltway pundits think, Americans clearly believe that Christine can and should win it," said DeMint.
The South Carolina Republican also announced that his Senate Conservatives Fund has set a new goal of $348,000, "which is double the amount of coordinated funds the national party had decided not to invest in this critical race."
"Republicans shouldn't give up on any race this year because there's an awakening taking place all across America as people reaffirm their support for America's founding principles," DeMint warned.
"They're not as concerned with which party is in power or who gets committee chairmanships. They simply want to elect new leaders who will fight for balanced budgets, constitutional limits, and individual liberty."
DeMint has roiled GOP leaders by backing several conservative contenders in primaries this election season who ultimately beat candidates they thought could more easily win in November.
That anger boiled over this week after O'Donnell defeated Rep. Mike Castle, who most thought was a shoe-in to pick up Vice President Joe Biden's old seat from the Democrats.
National Republican Senatorial Committee Spokesman Brian Walsh insisted to CNN that no decision has been made on what to spend on Delaware, just as with other races around the country.
Still, Walsh was careful not to fan the public flames between the National party and DeMint, saying that "the NRSC appreciates Senator DeMint's assistance this election cycle, as we do with all of our Republican Senators, and particularly as the Committee prepares to invest heavily in a number of key battleground states around the country,"
"All of the financial assistance our candidates are receiving from their Republican supporters will help sure a number of important Senate seat victories this November," said Walsh.
DeMint's Senate Conservatives Fund says it has directly invested over $3.1 million for conservative senate candidates this election cycle through direct PAC contributions, bundled donations, and independent expenditures for the candidates.
The current investment totals it lists for each of SCF's 10 endorsed candidates include $208,000 to Pat Toomey in Pennsylvania, – $507,000 to Marco Rubio in Florida and $476,000 to Ken Buck in Colorado.
Walsh said the NRSC plans to spend more than $3 million in Colorado alone, saying they have currently reserved roughly $3.2 million in television air time in Colorado; almost $3 million in Washington for Dino Rossi; $ 3 million for Marco Rubio in Florida; $2 million for Carly Fiorina in California; and over $2.5 million for Pat Toomey in Pennsylvania.