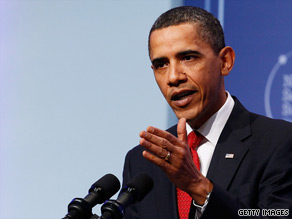 Obama: Public service is not a game.
(CNN) - GOP Senate nominee Linda McMahon's pushing back Friday against some jabs from President Barack Obama.
Obama, in Connecticut Thursday to headline a fundraiser for state Attorney General Richard Blumenthal, the Democratic Senate nominee, brought up McMahon, a former pro-wrestling executive.
"I understand she has promised a 'smackdown'. That is what she said. And, look, there's no doubt, I can see how somebody who's been in professional wrestling would think that they're right at home in the United States Senate - if they were watching some of the behavior that's been going on. But the truth is - and Dick understands this - public service is not a game," said Obama.
"At this moment, we are facing challenges we haven't seen since the Great Depression. And facing serious challenges requires serious leaders," added the president.
While the McMahon campaign agreed with some of Obama's comments, they don't see eye to eye with most of what he said.
"We agree with the President that this country is facing challenges we haven't seen since the Great Depression, and Washington needs leaders who are willing to take on the status quo. But with all due respect to the President, his policies are the status quo, and I think it's clear from the polling that the public has had enough of the endless spending, the mounting debt and the growing unemployment rate. Dick Blumenthal would be a rubber stamp for the policies coming out of Washington, and people are ready for something different," says a McMahon campaign spokesman Ed Patru, in a statement to CNN.
A Quinnipiac University poll of likely Connecticut voters released earlier this week indicates that McMahon has narrowed Blumenthal's advantage to six points. The winner will succeed Democratic Sen. Chris Dodd, who announced earlier this year that he would not run for a sixth term in the Senate.
Follow Paul Steinhauser on Twitter: @PsteinhauserCNN