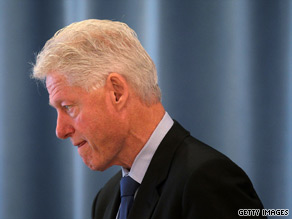 Bill Clinton has some advice for congressional Democrats and for President Obama.
(CNN) - Former President Bill Clinton said Tuesday that Sarah Palin is "somebody to be reckoned with" and cautioned Democrats that "it's always a mistake to underestimate your opponent."
"We may be entering a sort of period in politics that's sort of fact free, where the experience in government is a negative," Clinton told ABC's George Stephanopoulos.
The former president wouldn't say whether Palin is qualified to hold the highest office.
He also had some advice for President Obama ahead of what's likely to be a Republican resurgence in November's midterm elections.
Clinton said Obama should ask the American people for two more years to right the economy and put his job and those of his Democratic allies in Congress on the line.
"[He should say:] If we don't do better, you can vote against us all and I'll be on the ballot too. Vote against us all if it's not better," Clinton said.
Clinton will sit down with Wolf Blitzer Tuesday afternoon in The Situation Room, starting at 5 p.m. ET on CNN.