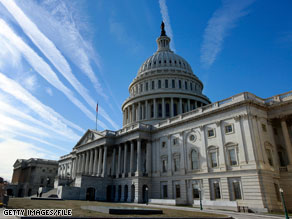 The CNN 100 takes a look at the top 100 House races, from now until Election Day.
Editor's Note: In the final 100 days before Election Day, CNN has been profiling one race at random each day from among the nation's top 100 House races, which we've dubbed "The CNN 100." Read the full list here. Today's featured district is:
Arkansas 02 – Rep. Vic Snyder (D) is retiring
Primary: May 18, 2010
Location: Little Rock
Days until the election: 42
This race, while technically located in Arkansas' second congressional district, has some obvious national overtones that will likely play prominently in its outcome. The current seat-holder, Rep. Vic Snyder, a thirteen year veteran Democratic congressman, is retiring, leaving in his wake a liberal voting record (voted for stimulus, climate change, and health care reform) in a more conservative-leaning district (carried by McCain in 2008), and a GOP that is eager to take the seat (and favored to do so by senior political handicappers such as Stuart Rothenberg and Charlie Cook). To complicate matters, the GOP is fielding a nationally-polished candidate, prosecutor Tim Griffin, who was appointed by President Bush, and served as Mr. Bush's recount adviser in 2000 and the opposition research director for the Bush 2004 re-election campaign.
Consequently, the campaign is an interesting referendum on both parties: on the one hand, the anti-incumbent-bent that is shaping up across the country is having an effect – most especially in a place that is likely more conservative than the voting record of its representative. But on the other hand, it will be certainly worth noting whether anti-Bush sentiments (with a GOP-er who is a former Bush aide and close to Karl Rove) will have an impact in the outcome as well.
The Democratic candidate is state Sen.Joyce Elliott, who is the African American majority leader of the state senate. A former high school teacher, Elliott has campaigned on education, health care reform, and the economy.
Recent polls show Griffin with a sizeable lead. He has also more than doubled Elliott's fundraising – he has raised close to $1 million compared to her less than $500,000. While Griffin has spent much of his cash (he has a little over $300,000 cash on hand), so has Elliott, (who has a little over $100,000 cash on hand).