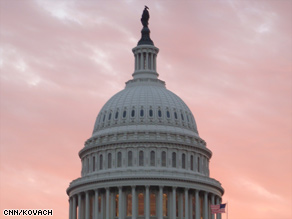 The CNN Washington Bureau's morning speed read of the top stories making news from around the country and the world.
WASHINGTON/POLITICAL
For the latest political news:  www.CNNPolitics.com
CNN: Senate to vote on taking up 'don't ask, don't tell' repeal
Despite high-profile support from pop star Lady Gaga and other gay rights supporters, the outcome remains too close to call for a key Senate vote Tuesday on whether to begin debate on legislation that includes a repeal of the military's "don't ask, don't tell" policy. Republicans appear united against the measure, including some GOP senators who favor lifting the Pentagon's requirement that gays and lesbians keep their sexuality a secret. The Republican opponents are upset that Democratic leaders so far refuse to allow GOP amendments to the broader National Defense Authorization Act that includes the "don't ask, don't tell" provision.
CNN: House Republicans to unveil campaign blueprint this week
House Republicans plan to unveil what amounts to a campaign blueprint on Thursday in suburban Virginia, GOP sources have told CNN. The much anticipated announcement comes after a nearly three-month-long listening session with the public online and through town hall meetings, dubbed "America Speaking Out," and is intended to show that House Republicans would have a governing agenda if rewarded with majority control in the congressional elections on November 2.
Washington Post: Tea party picking up steam nationwide
Fresh off big primary wins in Delaware and Alaska, national "tea party" groups are redirecting the energy of the movement toward the November midterm elections, raising millions of dollars, expanding their advocacy into dozens of congressional races and building voter turnout operations nationwide. Leaders of the Atlanta-based Tea Party Patriots said they will announce a seven-figure donation Tuesday, from a yet-unnamed person, that the organization will pour into local tea party groups and get-out-the-vote efforts in some of the most competitive congressional races.
CNN: O'Donnell sidesteps specifics on funds, says 'no truth' to allegations
Delaware GOP Senate nominee Christine O'Donnell, in comments exclusive to CNN, refused to answer specific questions Monday night about allegations she misused funds from her previous campaign and tried to downplay their significance. On the allegations she said there's "no truth to it."
CNN: O'Donnell Campaign Tries To Ramp Up
It doesn't look like the typical headquarters of a GOP senatorial nominee. About eight employees are right now jammed in the living room area of a non-descript townhouse near Wilmington, Delaware. This is where Christine O'Donnell's campaign runs one of the most talked-about races in the country. She's already beaten one political machine and is taking on another, but this shoestring staff is still struggling to hire more people and streamline communications. We're told that some members of the campaign staff of 10 work downstairs in this townhouse by day and live upstairs at night. When we asked if O'Donnell lives there, we were told she "sometimes stays here."
CNN: Miller: Murkowski broke her word
Joe Miller hit back at his on-again opponent Sen. Lisa Murkowski Monday, saying she broke her word to voters by announcing her plans to run as a write-in candidate in the Alaska Senate race. "I won the Republican primary with the largest Republican voter turnout in the history of this state, and we've had an extraordinary number come behind this campaign in the days following that, and even more coming behind this campaign after [Murkowski] announced her write-in campaign, which of course contradicted the word she gave just a few days before the primary that she would support the victor of the Republican primary," Miller told CNN Chief National Correspondent John King.
The Hill: GOP worries Murkowski write-in bid could cost party a Senate seat
Republican leaders are angry with Sen. Lisa Murkowski (R-Alaska) for jeopardizing their chances of winning the Senate. Murkowski's decision to mount a write-in campaign risks splitting the Republican vote between two candidates and could cost her party a safe GOP seat.
Washington Post: Fearing a soaring deficit, many analysts favor letting Bush tax cuts expire
The tax cuts at the heart of a fierce pre-election battle on Capitol Hill were designed when the economy was booming, the federal budget was in surplus and George W. Bush was campaigning for president on a promise to return the extra cash to taxpayers. Today, the economy is sluggish and the national debt is soaring to worrisome levels. As lawmakers bicker over whether to extend the Bush-era tax cuts, not just for the middle class but also for the wealthy, many economists and budget analysts say there's a simple way to curb borrowing: Let the tax cuts expire for everyone.
Miami Herald: Lawmakers push to challenge Florida redistricting proposals
As the high-stakes battle over drawing political boundaries goes to the November ballot, two veteran Florida congressmen joined with business groups Monday to launch a campaign to defeat the proposals that would upend the way their districts are drawn. Democratic Rep. Corrine Brown of Jacksonville, who was first elected to Congress in 1992, and Republican Rep. Mario Diaz Balart of Miami, first elected in 2002, said they will work to defeat Amendments 5 and 6 because they believe the standards will lead to less minority representation, not more.
Los Angeles Times: Democrats fighting election battles ask environmentalists, 'Where are you guys?'
Environmentalists who provided money, zeal and manpower to Democrats in 2008 are demoralized this campaign cycle, further fraying the coalition that sent Barack Obama to the White House and gave the party majorities in both houses of Congress. Meanwhile, energy and business interests have ramped up spending by tens of millions of dollars, hoping in part to halt climate change legislation promised by Obama but stalled in the Senate.
Politico: Reid calls Gillibrand the 'hottest' member at fundraiser
Senate Majority Leader Harry Reid had an unusual form of praise for New York's junior senator, Kirsten Gillibrand, this morning at the fundraiser Mayor Bloomberg hosted for him at his townhouse – referring to her as "the hottest member" as she sat just a few feet away, according to three sources. The comment prompted Gillibrand to turn red, according to the sources, and created a bit of stir among the small crowd there.
CNN: Bruni denies Michelle Obama likened White House life to 'hell'
France's first lady Carla Bruni denied Monday that her U.S. counterpart ever told her that life in the White House was "hell." "Of course Michelle Obama never said such a thing," the former model told CNN at the French mission in Midtown. She arrived Monday at the United Nations on the arm of her husband, French President Nicolas Sarkozy, who was attending a summit on global development.
NATIONAL
For the latest national news:  www.CNN.com
CNN: Medal of Honor recipient's valor hidden for decades
On Tuesday, more than 42 years after Air Force Chief Master Sgt. Richard L. Etchberger died on a Laotian mountaintop, President Obama will award him the Medal of Honor, the military's highest award for bravery. But for decades even Etchberger's own children didn't know about his heroism. Cory Etchberger was in third grade in 1968, when he was told that his father had died in a helicopter accident in Southeast Asia. At age 29 he learned the truth, when the U.S. Air Force declassified his father's story.
The Hill: Health insurers drop coverage for children ahead of new rules
Health plans in at least four states have announced they're dropping children's coverage just days ahead of new rules created by the healthcare reform law, according to the liberal grassroots group Health Care for America Now (HCAN). The new healthcare law forbids insurers from turning down children with pre-existing conditions starting Thursday, one of several reforms Democrats are eager to highlight this week as they try to build support for the law ahead of the mid-term elections. But news of insurers dropping their plans as a result of the new law has thrown a damper on that strategy and prompted fierce push-back from the administration's allies at HCAN.
Los Angeles Times: FBI improperly investigated activists, Justice Department review finds
FBI agents improperly opened investigations into Greenpeace and several other domestic advocacy groups after the Sept. 11 terrorist attacks in 2001, and put the names of some of their members on terrorist watch lists based on evidence that turned out to be "factually weak," the Justice Department said Monday. However, the internal review by Inspector General Glenn A. Fine did not conclude that the FBI purposely targeted the groups or their members, as many civil liberties advocates had charged, after antiwar rallies and other protests were held during the administration of President George W. Bush.
CNN: Exploded gas pipeline wasn't on utility's list of risky segments
A vintage segment of gas pipeline that exploded earlier this month was not on a list of the Pacific Gas & Electric's top 100 risky pipeline segments, the president of the company said Monday. The 30-inch pipe that exploded in San Bruno, California, on September 9, killing four people, was laid in 1948, the same year a segment just two miles away - one that was on the top 100 list - was laid.
Des Moines Register: CDC: Egg salmonella victims tops 1,600
The Centers for Disease Control and Prevention says that the number of reported illnesses in the salmonella outbreak linked to the DeCoster egg farms in Iowa has reached 1,608. The CDC says that illnesses that occurred after Aug. 12 still may not be reported, but the agency says the outbreak appears to have peaked in July. Many more illnesses than the number reported likely occurred because most cases of food poisoning are never confirmed, health officials say.
Wall Street Journal: Gene-Altered Fish Closer to Approval
The U.S. has moved closer to approving a laboratory-tweaked salmon that grows twice as fast as conventional farmed fish and would become the first genetically modified animal to appear on American dinner plates. An FDA advisory committee discussed Monday whether the fish was safe to eat and whether it posed any threat to the environment. The meeting ended without any decision about the fish. But in some ways, the FDA has already drawn its conclusions: In the run-up to the meeting, the FDA posted an analysis online that concluded the genetically altered version was as safe to eat as traditional Atlantic salmon, and posed little risk to the environment.
INTERNATIONAL
For the latest international news:  http://edition.cnn.com
CNN: 9 ISAF members killed in Afghanistan
Nine International Security Assistance Force service members were killed Tuesday when their helicopter crashed in southern Afghanistan, the force said. Two other service members, along with an Afghan National Army soldier and an American civilian received injuries in the crash. They were taken to a NATO medical facility.
CNN: Rare N. Korean meeting set for September 28
North Korea's ruling party will host its largest meeting in decades on September 28 to pick new leadership, the official Korean Central News Agency reported Tuesday. State media previously said the Korean Workers' Party would assemble in early September, but had not reported a date.
BUSINESS
For the latest business news:  www.CNNMoney.com
Bloomberg: Escaping Double Dip to Growth Recession Means No Job Relief
Federal Reserve Chairman Ben S. Bernanke pulled out all the stops to avert a depression last year. Now he and his colleagues must decide how to respond to the risk of a growth recession in 2011. The possibility of a sub-par expansion poses a dilemma for the central bank's policy-making Federal Open Market Committee when it meets tomorrow. While the economy isn't so weak that it's clearly in need of more monetary stimulus, it may not be strong enough to keep unemployment from increasing.
Christian Science Monitor: Gulf oil spill aftermath: Will region regain lost jobs?
Even as the oil industry in the Gulf of Mexico looks to the Nov. 30 expiration of the federal moratorium on deepwater drilling, economists are warning that conditions may not be favorable for oil companies to restore the thousands of jobs lost to the measures that were imposed after the Deepwater Horizon oil rig exploded in late April, killing 11 workers. The warnings are being issued amid sharp disagreement between the oil industry and its critics over the longterm impact of the moratorium on employment in the Gulf region.
Wall Street Journal: A Stimulus Project Gets All Caulked Up
The Motor City has lots of drafty houses and tens of thousands of unemployed people. So when Congress proposed spending $5 billion to insulate homes as part of the stimulus bill, Detroit got excited. The director of the city agency managing the program advertised for construction companies before the legislation even passed. But on the same day in March 2009 that Shenetta Coleman picked up applications from 46 companies, she received an email from the Michigan Department of Human Services telling her she couldn't award work to anyone.
In Case You Missed It
Pres. Obama faces questions about the economy and jobs during a CNBC town hall.
http://www.cnn.com/video/#/video/politics/2010/09/21/cnbc.obama.townhall.cnbc
A member of a watchdog group joins the discussion about Christine O'Donnell's campaign spending.
http://www.cnn.com/video/#/video/politics/2010/09/20/ac.odonnell.spending.questions.cnn
Subscribe to the CNN=Politics DAILY podcast at http://www.cnn.com/politicalpodcast
And now stay posted on the latest from the campaign trail by downloading the CNN=Politics SCREENSAVER at http://www.CNN.com/situationroom