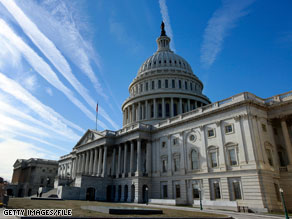 The CNN 100 takes a look at the top 100 House races, from now until Election Day.
Editor's Note: In the final 100 days before Election Day, CNN has been profiling one race at random each day from among the nation's top 100 House races, which we've dubbed "The CNN 100." Read the full list here. Today's featured district is:
New York 23: Rep. Bill Owens (D) vies to hold on to his seat.
Primary: September 14, 2010
Location: North Country, upstate New York
Days until the election: 41
(CNN) –This race is a nice little glimpse into the interesting intra-party dynamics playing in the Republican party nationally, and having quite an effect in New York's 23rd congressional district. Rep. Bill Owens (D) faces Republican Matt Doheny in a race to hold on to a seat Owens won only a year ago, in a special election to replace longtime Republican congressman Rep. John McHugh, who, at the time, left his seat to become Secretary of the Army.

This race is notable not just because it is over a seat that was controlled by the Republicans from 1832 until Owens won in November 2009, and therefore is a seat that the GOP desperately wants back in their column, but also because the 2009 special election was a huge boost to the Tea Party movement, and the recent GOP primary rejected those results in favor of the establishment candidate.
A year ago, Owens won his seat with 49 percent of the vote in large part due to a split in the Republican ticket which resulted in the GOP nominee, state Assemblywoman Dede Scozzafava, dropping out of the race (on the eve of the election) and endorsing Owens over conservative Hoffman (who had, to Scozzafava's downfall, received a large number of important Republican endorsements). In retrospect, the defeat of the more moderate Scozzafava by Hoffman turned out to be one of the earliest examples of the momentum and prominence that grassroots conservative movements have seen in this election cycle.
Hoffman was back this year, fighting for the seat he barely missed out on, losing last year to Owens by a mere 4 percent of the vote.
Yet insurgency has its downsides in this district, according to prominent political analyst Charlie Cook, who argues that Hoffman's out-of-district support was distasteful to some independent-minded upstate New Yorkers, who in the end, nominated Matt Doheny to be their candidate in November.
Both candidates have less than a million dollars cash on hand headed into election day, with Doheny holding $471,463 and Owens with slightly more, $599,805.