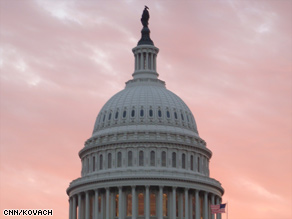 The CNN Washington Bureau's morning speed read of the top stories making news from around the country and the world.
WASHINGTON/POLITICAL
For the latest political news:  www.CNNPolitics.com
CNN: Senate halts 'don't ask, don't tell' repeal
In a graphic example of election-year politics at work, a defense bill that would repeal the military's "don't ask, don't tell" policy got blocked Tuesday in the U.S. Senate by a Republican-led filibuster. The bill stalled on a 56-43 vote, four short of the 60 votes needed to overcome the Republican opposition. Senate Majority Leader Harry Reid, D-Nevada, changed his vote to "no" as a tactic al move, allowing him to bring the measure up later.
Politico: Harry Reid's botched battles
Senate Majority Leader Harry Reid hoped the defense policy bill would help make a final pre-election argument for Democrats while energizing the base on gay rights and immigration. But what he got was a failed vote and a mix of frustration and disappointment from the people he was trying to help. The stalled defense authorization bill — one of the last major Senate votes before November's elections — was emblematic of the Nevada senator's struggles to cut deals with the GOP while still pleasing core Democratic constituencies.
New York Times: Woodward Book Portrays Obama Aides' Battles
Some of the critical players in President Obama's national security team doubt his strategy in Afghanistan will succeed and have spent much of the last 20 months quarreling with one another over policy, personalities and turf, according to a new book. The book, "Obama's Wars," by the journalist Bob Woodward, depicts an administration deeply torn over the war in Afghanistan even as the president agreed to triple troop levels there amid suspicion that he was being boxed in by the military.
CNN: Obama economic adviser Summers leaving White House
President Barack Obama's top economic adviser is going back to Harvard University at year's end, the White House announced Tuesday after hints of a shakeup of the administration's team. Larry Summers, the former Treasury secretary who led Obama's National Economic Council, will return to academia at the end of 2010, the White House announced. In a written statement on the move, Obama praised Summers for his "brilliance, experience and judgment."
Los Angeles Times: New chief of staff would let Obama reset White House tone
President Obama may soon make one of the most fateful personnel decisions of his tenure, naming a new chief of staff whose job will be to help revive a presidency battered by the weak economy and a Republican resurgence. Rahm Emanuel, who now holds the position, is expected to resign soon to run for mayor of Chicago, giving Obama a chance to reconfigure a White House team that has seen little high-level turnover.
CNN: Senate Democrats want middle-class tax cut vote
Senate Democrats are aiming to force a vote extending tax breaks for the middle class – and not for those in the top income bracket – before they adjourn for the midterm elections. But it's not clear the vote will happen; and it depends on Democrats working out a procedural deal with Republicans, two aides and Senate Majority Whip Dick Durbin, D-Ill., said Tuesday. If the vote happens, it will likely be a test vote on extending tax cuts – now slated to expire at the end of the year – for families earning less than $250,000 and individuals earning less than $200,000.
CNN: Witchcraft and Marxism in Delaware
Delaware Senate nominee Chris Coons tried to set the record straight Tuesday in an interview that covered witchcraft, Marxism and Harry Reid. When asked by CNN National Political Correspondent Jessica Yellin if Republican Christine O'Donnell's controversial comments about witchcraft over a decade ago were relevant now, Coons said "I really don't think so. My opponent spent more than a decade as a pundit on television so there's lots of clips of her saying things that I'm sure she wished that there weren't files of right now," Coons said.
CNN: O'Donnell camp fights back
Christine O'Donnell's Senate campaign is pushing back hard on allegations that she misused election funds by putting them to private use. Leading the counter-offensive is Cleta Mitchell, an attorney and an expert in campaign finance law, who was just retained by the O'Donnell campaign to deal with the allegations.
Washington Post: Christine O'Donnell: I'm not doing any more national TV interviews
Delaware Senate nominee Christine O'Donnell (R) gave on Tuesday night one of her few national TV interviews since recording a stunning upset over Rep. Mike Castle (R) a week earlier. She used the opportunity to announce that it would be her last national TV interview. National exposure is now "off the table, because that's not going to help me get votes," O'Donnell told Fox News Channel's Sean Hannity. "I'm not going to do any more national media because this is my focus: Delaware is my focus, and the local media is my focus."
CNN: Murkowski asks Alaskans to 'stand by me'
Alaska Senator Lisa Murkowski is on the air with a paid advertisement making her case to Alaskans and asking them to "stand by me" as she pursues a general election write-in campaign. In her first ad of the general election, the current Republican Senator from Alaska wastes no time going after her opponents.
CNN: Murkowski likely to be stripped of committee
Senate Republicans just said they will move tomorrow to strip Alaska Sen. Lisa Murkowski, R-Alaska, from her post as ranking Republican on the Senate Energy Committee. Republicans say Wednesday they will vote to elect an acting ranking member and then the full GOP conference will ratify the vote.
CQ Politics: Democrats Try to Tie Republicans to Tea Party
The White House and Congressional Democrats have begun stepping up attacks on "extremist" tea party views that they say are infecting the Republican Party, but they are wary of going too far and alienating the most enthusiastic group of voters this cycle. The Democrats' strategy is nuanced: Rather than invest in expensive television ads, party leaders have been weaving the connection into their talking points. The move comes after two tea party candidates won Senate Republican nominations in this month's primaries — Christine O'Donnell of Delaware and Joe Miller of Alaska. Both candidates beat more mainstream Republicans who were expected to win handily.
Salt Lake Tribune: Hatch: 'I'll stand up for the tea party every time'
As national political handicappers placed Sen. Orrin Hatch on the tea party's target list Tuesday, the Utah Republican said he identifies with the conservative movement that has been upsetting establishment GOP candidates across the country. "I'll stand up for the tea party every time," Hatch said. "These people are angry — justifiably angry. They're taking a part in the process. They're making a difference."
CNN: Pawlenty backs more GOP candidates
Minnesota Gov. Tim Pawlenty's increasing his support of Republican candidates running in November's midterm elections. The possible 2012 GOP presidential hopeful announced Tuesday that his political action committee, Freedom First PAC, is endorsing 30 candidates in New Hampshire, from the statewide to the local level. The PAC is also contributing approximately $18,000 total to the candidates' campaigns.
Denver Post: Dem ads on reproductive rights aim to sharpen Sen. Bennet's appeal to women
With voters across the country overwhelmingly focused on jobs and the economy, Democrats have spent money and energy in Colorado's U.S. Senate race on the issue of reproductive rights. The strategy, according to political observers and polling data, is to sharpen Democratic Sen. Michael Bennet's appeal to independent female voters, who tend to recoil from extreme views.
Wall Street Journal: Slump Hit Candidates, Too
Christine O'Donnell, the tea-party favorite and GOP Senate nominee in Delaware, is facing questions over her own financial struggles. Democratic Illinois Treasurer Alexi Giannoulias, running for the Senate seat once held by Barack Obama, watched his family's bank collapse. As the nation emerges from the longest recession since the 1930s, politicians on the 2010 campaign trail have not been immune from deep debt, foreclosures, tax liens and other financial problems.
New York Post: Bloomberg will endorse Cuomo for Gov: sources
Mayor Bloomberg is going to plunge into the governor's race by endorsing Democrat Andrew Cuomo — possibly as early as tomorrow, sources said tonight. One Democratic Party source said the mayor's top political aide, Deputy Mayor Howard Wolfson, has been in intense talks with the Cuomo camp about the timing of the endorsement. "It's going to happen," said the source. "It's just a question of when."
NATIONAL
For the latest national news:  www.CNN.com
CNN: Industry experts: Less 'made in USA' putting American security at risk
The decline in American manufacturing is risking the country's security, experts will tell a Congressional hearing on Wednesday. Manufacturing industry experts will appear at a National Security Oversight Subcommittee on Capitol Hill to examine the effects the decades old downturn in U.S. manufacturing may have on the country's national security.
Wall Street Journal: Rate Increases Denied to Some Private Medicare Plans
The Obama administration said Tuesday it denied rate increases and benefit cuts sought by some privately run Medicare plans. The move is a sign of the toughening regulatory climate for health insurers that could prompt some of them to leave the Medicare market in coming years.
Des Moines Register: Testimony: DeCosters to apologize for egg outbreak
Jack DeCoster and his son, Peter, will apologize Wednesday to victims of a salmonella outbreak and pledge not to resume selling fresh eggs until their farms are free from disease, according to testimony prepared for a House committee. "While we always believed we were doing the right thing, it is now very clear that we must do more," said Peter DeCoster, who is chief operating officer of the Wright County Egg operations, which his father owns.
USA Today: Merit pay study: Teacher bonuses don't raise student test scores
Offering middle-school math teachers bonuses up to $15,000 did not produce gains in student test scores, Vanderbilt University researchers reported Tuesday in what they said was the first scientifically rigorous test of merit pay. The results could amount to a cautionary flag about paying teachers for the performance of their students, a reform strategy the Obama administration and many states and school districts have favored despite lukewarm support or outright opposition from teachers' unions.
Miami Herald: Judge reaffirms order for EPA chief to appear in court over Glades cleanup
Five months ago, U.S. District Judge Alan Gold ordered the top bosses of two state and federal environmental agencies to show up in his Miami courtroom to explain in person how they are going to end the "glacial delay" miring efforts to clean up the Everglades. On Tuesday, he reaffirmed his order, rejecting a request from the U.S. Environmental Protection Agency to provide a substitute for Administrator Lisa Jackson, who argued that a high-ranking assistant oversaw Glades issues and that Jackson was too busy to make the Oct. 7 hearing.
USA Today: Almost a quarter of major urban roads are in poor shape
Nearly one-quarter of the USA's major urban roads are in substandard or poor condition, costing the average motorist an extra $402 a year in vehicle operating costs, a transportation research group reports today. Washington, D.C.-based TRIP, a non-profit supported by insurance companies and road builders among others, based its report on 2008 data from the Federal Highway Administration, the most recent available. It does not reflect road projects in the $814 billion federal stimulus program begun last year.
INTERNATIONAL
For the latest international news:  http://edition.cnn.com
CNN: World leaders to gather for global talks at UN summit
World leaders will convene for another day Wednesday at the United Nations General Assembly, where representatives from member nations are expected to discuss various issues. Leaders from the United States, China, Japan and the United Kingdom are expected to speak late Wednesday afternoon.
CNN: Chinese premier wants immediate, unconditional release of boat captain
Chinese Premier Wen Jiabao, in New York Tuesday for the United Nations General Assembly, urged Japan to release a detained Chinese boat captain "immediately and unconditionally," China's state news agency Xinhua reported. Otherwise, China will take further measures, Wen said in a meeting with Chinese nationals and Chinese-Americans, according to Xinhua.
BUSINESS
For the latest business news:  www.CNNMoney.com
CNN Money: Jobs picture gets worse in 27 states
The national unemployment rate may have only ticked up slightly in August, but on a state-by-state basis, the jobs picture continues to look a lot more grim in places like Nevada, Michigan and California. A total of 27 states reported higher unemployment rates in August, nearly double the 14 that saw increases in July, the Labor Department said in its monthly report on state unemployment Tuesday.
In Case You Missed It
Anderson Cooper talks to Melanie Sloan who has called some of Christine O'Donnell's political practices 'criminal'
http://www.cnn.com/video/#/video/politics/2010/09/21/ac.odonnell.melanie.sloan.cnn
Is Lady Gaga a politically influential or powerless pop princess? HLN's Kareen Wynter reports.
http://www.cnn.com/video/#/video/showbiz/2010/09/21/sbt.gaga.political.power.cnn
Subscribe to the CNN=Politics DAILY podcast at http://www.cnn.com/politicalpodcast
And now stay posted on the latest from the campaign trail by downloading the CNN=Politics SCREENSAVER at http://www.CNN.com/situationroom