Cornwall, Pennsylvania (CNN) - Mitt Romney is more confident about his chances in Pennsylvania after a day of campaigning here Saturday.
Pennsylvania Rep. Jim Gerlach teed up the presumptive GOP presidential nominee when he spoke to the crowd in Cornwall before Romney arrived.

- Follow the Ticker on Twitter: @PoliticalTicker
- Check out the CNN Electoral Map and Calculator and game out your own strategy for November.
"We have a duty to make Gov. Romney believe that he can win Pennsylvania," Gerlach said.
President Barack Obama won the state by 10 percentage points in 2008, and it has gone to the Democratic presidential nominee in every presidential election since 1992.
The CNN Electoral Map projects the state is leaning in Obama's favor this year, too.
A poll released Friday shows Obama ahead of Romney in the state. But the Quinnipiac University survey also shows Romney with an eight-point lead over the president when likely voters were asked who would best handle the economy.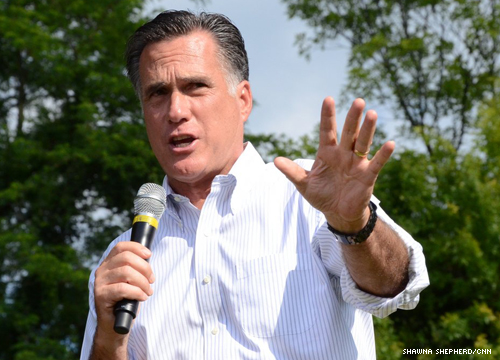 Standing near Pennsylvania Republicans Gov. Tom Corbett and Sen. Pat Toomey, Romney referred on Saturday to Gerlach's comment.
"He said that you guys need to convince me that I can win Pennsylvania. I've got news for you, congressman, I am going to win Pennsylvania!"
At his third and final stop in the crucial battleground state, Romney was resoundingly more optimistic about his chances of winning Pennsylvania than he was nearly eight hours earlier at his first stop in Weatherly.
"It's going to be a battle. I'd love to get the whole state. We'll see," he said to first-term U.S. Rep. Lou Barletta from Pennsylvania, after Barletta told Romney he was going to help him win in eastern Pennsylvania.
Corbett told reporters in Cornwall that he believes Romney can do well in western and central Pennsylvania. "He's not going to win Philadelphia, we know that ... but he can compete in the rest of the state."
"I would tell him, as he well knows, that if he wins this state he's going to win the election. And I believe it's winnable," Corbett told reporters in Cornwall. "He has to spend some time here."
Also see:
No mention of Romney as Palin serves up anti-Obama red meat
Back in the spotlight, Cain invokes rabble-rousing routine
Romney bus tour's immigration detour