(CNN) - Republican presidential candidate Mitt Romney has boarded his charter flight from England to Israel for the next leg of his overseas trip.
Joining him on the flight are his wife Ann Romney, son Josh and a slew of policy advisers.

- Follow the Ticker on Twitter: @PoliticalTicker
- Follow Jim Acosta on Twitter: @jimacostacnn
After a bruising trip to England, the GOP contender did not make any comments to his traveling press corps in the rear of the plane.
The aircraft is adorned with photographs of Romney on the campaign trail.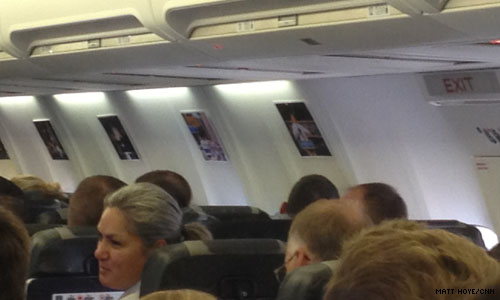 Aides on the plane briefly held up then lowered an Israeli flag a few rows ahead of journalists seated on the plane. It was a brief reminder of the high stakes that lie ahead for a visit to a region that poses a more challenging diplomatic test than the nation Romney is leaving behind.
Prior to their departure from England, Romney and his wife watched an Olympic swimming event.
Romney commented to several staffers about the swimming event aboard the plane. "It was good, it was good, yeah," he said.
Ann Romney added, apparently referring to his finish in the 400 meter individual medley, "Michael Phelps barely made it. Barely. .07 seconds."
In an interview on Friday, Romney weighed in on the rivalry between US Olympic swimmers Michael Phelps and Ryan Lochte, saying he thought it "more likely" Phelps would come out ahead.
- Check out the CNN Electoral Map and Calculator and game out your own strategy for November.