Washington (CNN) - For the week ending Sunday Mitt Romney's campaign is spending almost as much as President Obama for ads in nine key battleground states, according to data from a source tracking media buys.
This marks an increase in what the Republican nominee is investing for campaign commercials in these pivotal states.

- Follow the Ticker on Twitter: @PoliticalTicker
- Follow Kevin Bohn on Twitter: @KevinBohnCNN
For the period of Monday-Sunday Obama's campaign has bought $13.5 million of ads in those nine states while Romney is spending $12.9 million.
During the general election media campaign Obama's campaign has far out-spent his opponent in the swing states on ad buying. Romney's campaign recently assured donors it would greatly boost its spending in the final weeks before Election Day.
The ad disparity has been somewhat diminished during this period by spending of several Republican super PACs which have aired a variety of ads, mostly attacking President Obama and his economic record, in these states.
This week, however, Romney has bought more ad time in two of the states which have seen the most spending by campaigns and super PACs: Ohio and Virginia. Romney also outspent Obama this week in Iowa, Nevada, North Carolina and Wisconsin.
The amount of ad spending continues to break records. According to CNN's ad consultant CMAG/Kantar Media, eight of the battleground states have seen at least double – and in some cases more - the spending on broadcast commercials that they saw four years ago. New Hampshire, for example, has seen more than three times and Colorado and Virginia have seen twice as much.
Below is a breakdown of this week's spending, according to the CNN source, in the nine states: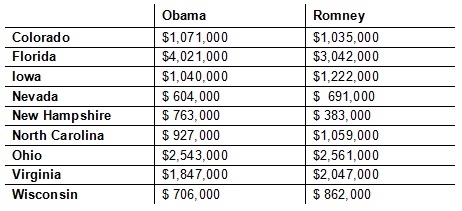 - Check out the CNN Electoral Map and Calculator and game out your own strategy for November.